Fpt Industrial e la Biennale
Fpt Industrial e la Biennale, un binomio suggellato sabato 11 maggio 2019 nella prestigiosa sede di Ca' Foscari, all'interno del palazzo gotico che ospita l'ateneo lagunare e che affonda le radici nel 1475. Il suggello è avvenuto alla presenza del Rettore, Michele Bugliesi, della Brand President Powertrain di Cnh Industrial (alias Fpt Industrial), Annalisa Stupenengo, Carlo […]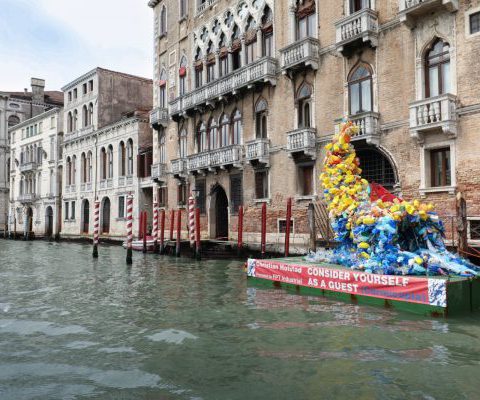 Fpt Industrial e la Biennale, un binomio suggellato sabato 11 maggio 2019 nella prestigiosa sede di Ca' Foscari, all'interno del palazzo gotico che ospita l'ateneo lagunare e che affonda le radici nel 1475. Il suggello è avvenuto alla presenza del Rettore, Michele Bugliesi, della Brand President Powertrain di Cnh Industrial (alias Fpt Industrial), Annalisa Stupenengo, Carlo Moroni, Head of Communication e Christian Holstad, l'autore di 'Consider yourself as a guest. Cornucopia'.
'OSPITI A CASA NOSTRA' E A PESCA DI PLASTICA
Il senso delle ragioni della presenza di Fpt Industrial in un milieu così impregnato di valori simbolici, artistici e culturali, quali l'ateneo veneziano e la Biennale di Arte Contemporanea, all'interno del quale Fpt promuove il Padiglione Italia, è nelle parole della Stupenengo: «Perché unire industria e arte? Perché è la cosa giusta».
Fpt Industrial e la Biennale
Il legame tra Fpt Industrial e la Biennale si inserisce nella strategia di proiezione del marchio nella cosiddetta società civile, un approccio, per così dire, 'multi-tasking', come avvenuto in occasione della partnership con Universal Studios e come testimoniato dalla sintonia con Giorgio Moroder, autore di un djset al Technikum di Monaco di Baviera, al fianco del Cursor X. La promozione del Made in Italy passa, dunque, attraverso la valorizzazione simbolica dei 'manufatti', intesi in senso lato, sia come espressione dell'estro artistico che della ricerca ingegneristica applicata ai motori.
PIONIERISTICI, FUTURIBILI, TANGIBILI. CHI? GIORGIO MORODER E IL CURSOR X
Un altro spunto di riflessione proviene da Carlo Moroni, Head of Communication di FPT Industrial: «Si tratta di progetti di sensibilizzazione che riteniamo doverosi per una azienda come la nostra, che da sempre investe in ricerca con l'obiettivo di produrre motori all'avanguardia, sostenibili e rispettosi dell'ambiente. L'installazione di Holstad e la sponsorship del Padiglione Italia sono un modo per consolidare ulteriormente il nostro impegno, per sostenere la produzione culturale e per rendere omaggio a Venezia, città che in assoluto rappresenta l'influenza dell'acqua sulle nostre vite».
Ai Giardini c'è anche Hyundai. Per il Padiglione Corea
Dall'industriale alle quattro ruote, da Torino a Seul. Hyundai Motor ha confermato la sponsorizzazione del padiglione Corea alla Biennale. Il Padiglione Corea, 'History Has Failed Us, but No Matter', è curato da Hyunjin Kim, Lead Curator per l'Asia presso la fondazione d'arte interdisciplinare contemporanea Kadist. Il senso del supporto del colosso coreano all'arte contemporanea è nelle parole di Wonhong Cho, Executive Vice President e CMO di Hyundai Motor: «Hyundai ha avuto, ancora una volta, il privilegio di sponsorizzare il Padiglione Corea alla Biennale di Venezia e dal 2015 si impegna ad offrire al pubblico diverse opportunità di esplorare gli attuali scenari nel campo dell'arte e della società contemporanea. Desideriamo nutrire la sostenibilità della scena dell'arte mondiale e di rendere l'arte accessibile a tutti attraverso il nostro impegno a favore delle arti contemporanee e della cultura».