Cox Marine: il motore Cxo300 ottiene l'approvazione delle emissioni per la doppia installazione
Il motore diesel Cox Marine da 300 CV a combustione pulita offre ora la soluzione fuoribordo più potente disponibile dopo aver ottenuto la nuova certificazione Bodensee Bso-II sul pittoresco Lago di Costanza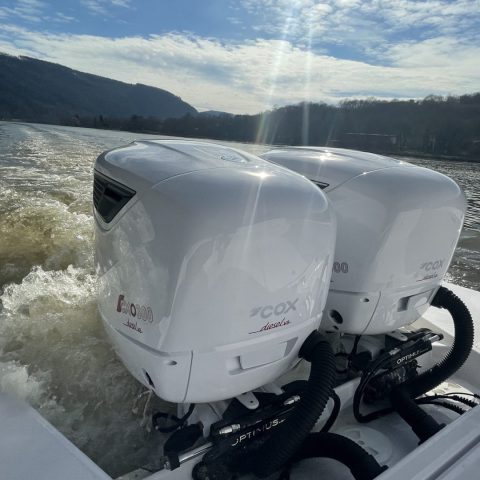 Il motore diesel Cox Marine da 300 CV a combustione pulita offre ora la soluzione fuoribordo più potente disponibile dopo aver ottenuto la nuova certificazione Bodensee Bso-II sul pittoresco Lago di Costanza
Ottenuta in collaborazione con il distributore svedese e tedesco Diesel Power AB, la storica certificazione accoglie per la prima volta la soluzione fuoribordo più potente e ad alta coppia disponibile sul lago e dimostra che l'innovativo Cxo300 da 300 CV è un motore a combustione pulita progettato per soddisfare le normative sulle emissioni in evoluzione in tutto il mondo.
La recente approvazione del Lago di Costanza per la doppia installazione di Cxo300 è una rara eccezione alla regola standard che consente a un solo fuoribordo a benzina fino a 100 CV di funzionare sull'acqua protetta.
Confinante con Germania, Svizzera e Austria, il pittoresco Lago di Costanza è soggetto al Regolamento marittimo del Lago di Costanza che opera per salvaguardarne l'ambiente naturale, concedendo diritti speciali alle navi passeggeri e ai pescherecci per operare sulle sue acque. Il lago di 63 km è noto per la sua tranquillità e bellezza, ed è anche una destinazione popolare per il motoscafo e la vela, insieme ad altri sport acquatici.
Peter Nauwerck, amministratore delegato di Diesel Power AB, ha dichiarato: "Siamo estremamente lieti di annunciare la nuova certificazione Cxo300 per installazioni gemelle, che consente a Diesel Power di offrire una nuova ed esclusiva soluzione di propulsione fuoribordo ecologica ai nostri clienti che utilizzano il Lago di Costanza. Rappresenta una notevole eccezione alla regola standard del lago, fornendo ai diportisti un sistema più potente, che quadruplica la coppia fuoribordo per portare barche più pesanti".
Il Cox Marine Cxo300 è un motore pulito
Il Cxo300 produce il 20-35% in meno di emissioni di CO2 rispetto ai fuoribordo a benzina comparabili, contribuendo al mantenimento delle normative del Lago di Costanza per la salvaguardia dell'ambiente. Severi standard di emissioni per il lago, che vanno oltre i livelli generali applicabili per l'Unione europea, hanno richiesto al Cxo300 da 300 CV di dimostrare un indice di emissione non superiore a 58. Per ottenere il certificato Bso-II dell'impianto gemellato, il Cxo300 ha registrato un indice di emissione di 54,34 , calcolato utilizzando quattro parametri di CO, NOx, HC e PN.
Hugh Hudleston, Head of Sales di Cox Powertrain, ha dichiarato: "Dopo aver raggiunto lo standard Bso-II per installazioni singole nel 2021 nella prima fase della presentazione, siamo lieti che l'installazione gemella più rigorosa sia stata rivista e approvata dalle autorità competenti. La certificazione del Lago di Costanza dimostra che il Cxo300 è sicuro per operare nei laghi e nelle regioni più protette del mondo. La riduzione delle emissioni dannose per il nostro ambiente naturale è stata fondamentale per l'ingegneria e il design innovativi del fuoribordo Cxo300 che sta rivoluzionando il mercato e continua ad essere la chiave della nostra filosofia aziendale. Cox Marine si impegna a guidare lo sviluppo di sistemi di propulsione per produrre minori emissioni di CO2".
Mats Hallberg, Export Sales Manager di Diesel Power AB, ha dichiarato: "L'approvazione per l'installazione doppia del fuoribordo diesel Cxo300 per l'uso sul lago è un'ulteriore prova che il motore è molto più pulito del corrispondente fuoribordo a benzina. Da molti anni, il Lago di Costanza è noto per i suoi rigidi standard di emissione, quindi siamo molto orgogliosi di poter offrire questo prodotto ai nostri clienti".
Progettato come soluzione ideale sia per uso commerciale che ricreativo, il fuoribordo diesel Cxo300 rappresenta una nuova generazione di tecnologia diesel. Con un risparmio di carburante fino al 30%, producendo il 30% in meno di emissioni di CO2 e con una coppia di 650 Nm, il fuoribordo diesel è un'opzione di propulsione ecologica costruita per la massima velocità.
The CXO300 can be ordered through Diesel Power AB, the Cox Marine distributor for countries around the Baltic Sea and several central European countries. Supported by a network of 30 distributors covering over 100 territories, the CXO300 outboard engine is available to order across the globe.
Il Cxo300 può essere ordinato tramite Diesel Power AB, il distributore Cox Marine per i paesi intorno al Mar Baltico e per l'Europa centrale e supportato da una rete di 30 distributori che coprono oltre 100 territori.