Debutto nordamericano per il 4 cilindri Cummins
Il nuovo motore strutturale Cummins 4 cilindri è stato esposto al World Ag Expo 2020, la fiera sull'agricoltura tenutasi la scorsa settimana a Tulare, California. Il nuovo motore, disponibile con cilindrate da 3,8 litri (F3.8) e 4,5 litri (F4.5), era in bella mostra allo stand del costruttore statunitense anche all'ultima Agritechnica, a completamento della gamma […]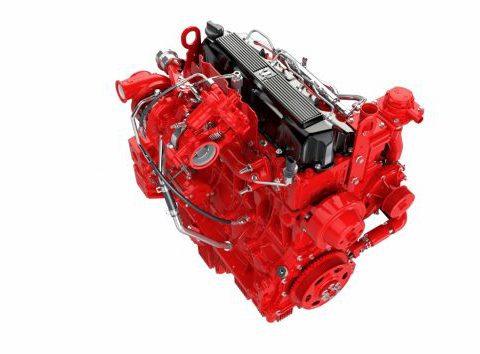 Il nuovo motore strutturale Cummins 4 cilindri è stato esposto al World Ag Expo 2020, la fiera sull'agricoltura tenutasi la scorsa settimana a Tulare, California. Il nuovo motore, disponibile con cilindrate da 3,8 litri (F3.8) e 4,5 litri (F4.5), era in bella mostra allo stand del costruttore statunitense anche all'ultima Agritechnica, a completamento della gamma strutturale a 6 cilindri B6.7.
I nuovi motori strutturali Cummins F3.8 e F4.5 costituiscono un'opzione per applicazioni che richiedono compattezza, ad esempio per trattori nella fascia di potenza da 67 a 149 kW. Insieme al motore B6.7 a sei cilindri, ampliano la gamma di prodotti strutturali Cummins nel range da 67 a 243 kW.
LA CONSEGNA DEI TRACTOR OF THE YEAR AD AGRITECHNICA
Gli upgrade della Performance Series
«La nuova gamma Cummins Performance Series migliora significativamente le capacità del motore F3.8, con il 33 percento di potenza e il 31 percento di coppia in più rispetto al modello precedente. Con potenza fino a 173 cavalli, è diventato leader nella sua categoria. Ora stiamo rendendo disponibile questo prodotto con un blocco strutturale e una coppa dell'olio per applicazioni su trattori agricoli. Come parte della nostra gamma Performance Series, offrirà una maggiore capacità della macchina e sostanziali vantaggi in termini di produttività per gli agricoltori che utilizzano le macchine motorizzate Cummins», ha dichiarato Ann Schmelzer, General Manager Global Agriculture di Cummins.
L'APPROCCIO CUMMINS AI MOTORI AGRICOLI, SECONDO STEVEN NENDICK
Tier 4 Final e Stage V per il 4 cilindri Cummins
I motori strutturali F3.8 e F4.5 sono conformi allea normative sulle emissioni Tier 4 Final e EU Stage V con il modulo Flex di Cummins per il post-trattamento, che utilizza la stessa tecnologia sviluppata del Single Module Cummins per l'aftertreatment, costituendo un pacchetto flessibile.È così possibile di soddisfare i livelli di emissioni richiesti senza ricorrere all'Egr.