Fpt Industrial F28: diesel e gas
Fpt Industrial F28 è la sigla dei compatti di Torino che occupano il buco di listino tra il 2,2 litri su base Vm Motori e il 3,2 litri, Diesel of the year 2008. L'utilizzo del plurale per definire il 4 cilindri dipende dalle due versioni ricavate dal monoblocco. La carta vincente di questa proposta riguarda infatti […]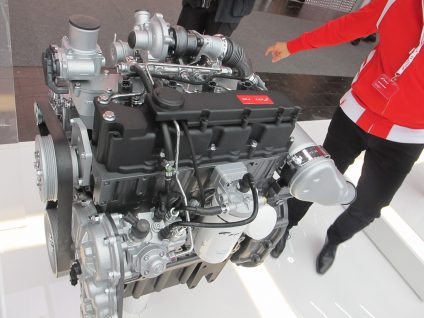 Fpt Industrial F28 è la sigla dei compatti di Torino che occupano il buco di listino tra il 2,2 litri su base Vm Motori e il 3,2 litri, Diesel of the year 2008. L'utilizzo del plurale per definire il 4 cilindri dipende dalle due versioni ricavate dal monoblocco. La carta vincente di questa proposta riguarda infatti il lancio simultaneo della usuale versione da lavoro, con alimentazione a ciclo diesel, e la speculare versione gassificata. Un primo stralcio dell'orizzonte applicativo multi-carburante che Fpt Industrial ha identificato con il concept Cursor X.
FPT TRA I CAMPI (E LA SPIAGGIA)
Fpt Industrial F28
«Crediamo che il piccolo e potente motore F28 possa trainare ulteriormente lo sviluppo del settore agricolo nei prossimi anni», ha dichiarato Fabio Rigon, Vice Presidente di FPT Industrial Europe. «Offriremo anche una versione a gas naturale del motore per soddisfare la domanda di carburanti alternativi nel settore agricolo».
L'Fpt Industrial F28 eroga una potenza massima di 55 chilowatt a 2.300 giri e una coppia massima di 375 Newtonmetro a 1.400 giri. Sebbene abbia una cilindrata di soli 2,8 litri, il motore F28 offre le prestazioni di un tipico 3,4 litri in un formato compatto da 2,2 litri.
CON QUEL CINESE UN PO' EMILIANO 
Per le omologazioni StageV il 2,8 ieri è offerto col catalizzatore di ossidazione abbinato a un filtro antiparticolato, mentre per il Tier 4 Final basta il catalizzatore, mantenendo lo stesso formato.
Canali Egr integrati
Il design snello del motore, con i canali Egr integrati e la soluzione a ponte ribassato, garantisce grande compattezza e facilità di installazione nel veicolo. Inoltre, la sua facilità di manutenzione, con la possibilità di intervenire da un solo lato del motore e l'intervallo di sostituzione olio di 600 ore, permettono di semplificare le attività richieste e ridurre i costi di esercizio.
A proposito di gas naturale e biometano, l'F28 non è l'unico aggiornamento del listino di Fpt. Ad Hannover ha visto la luce anche l'N67 NG: 180 chilowatt a 1.800 giri e 1.035 Newtonmetro a 1.500.