L'Fpt F28 è il Diesel of the year 2020
Svelato il nome del Diesel of the year 2020. Quando all'Agritechnica 2019 i veli sono scivolati dalla sagoma dell'F28, non hanno rivelato un motore, ma due. Il 2,8 litri di Fpt Industrial, common rail Bosch da 1.600 bar per alimentare di gasolio le camere di combustione, si è mostrato al fianco del suo gemello a […]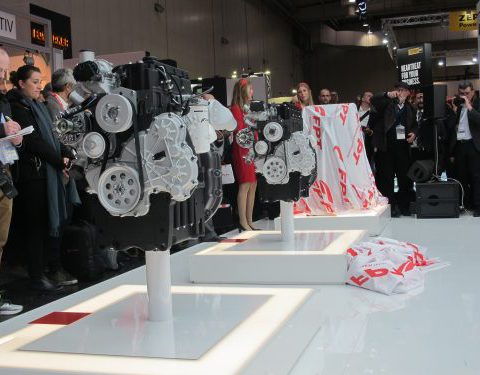 Svelato il nome del Diesel of the year 2020. Quando all'Agritechnica 2019 i veli sono scivolati dalla sagoma dell'F28, non hanno rivelato un motore, ma due. Il 2,8 litri di Fpt Industrial, common rail Bosch da 1.600 bar per alimentare di gasolio le camere di combustione, si è mostrato al fianco del suo gemello a gas. Da questa apparizione è nata la convinzione di premiare il 4 cilindri di Fpt. Un battesimo che, ai nostri occhi, appare già come una consacrazione. Non vogliamo osare paragoni azzardati con il progetto Cursor X, ma possiamo definirlo una specie di embrione di motore multitasking. Come partire da foglio bianco e disegnare contemporaneamente una unità schiettamente industriale, dalla apprezzabilissima curva di coppia (con 375 Newtonmetro è il best in class), e un'altra speculare, ma con le bobine come primo impianto.
Le peculiarità tecniche dell'F28
Riproponiamo qui alcuni stralci della chiacchierata con Pierpaolo Biffali, Vice President Product Engineering, che abbiamo incontrato poco dopo la presentazione del motore ad Hannover: «Sotto i 56 chilowatt il 3,4 e il 3,6 sono penalizzati dagli ingombri (per esempio sui T4 di New Holland, le pale caricatrici di Case CE). Architettura uniflow, con aspirazione e scarico dalla stessa parte. Egr esterno raffreddato: le posizioni del canale e del cooler sono cambiate rispetto all'F5. Il cooling è posizionato all'esterno ma le tubazioni sono integrate. La coppa è strutturale, con basamento unico per industriale e agricolo: cambia la parte bassa della coppa. La versione a gas nasce dall'ottica di un'economia circolare agricola, per neutralizzare la CO2 nelle operazioni di farming con prestazioni diesel-like e costi di esercizio più contenuti».
LA PRESENTAZIONE DELL'F28 AD AGRITECHNICA
Le cerimonie di premiazione del Diesel of the year 2020
Per Fpt Industrial non è certo la prima volta. Tutt'altro: già nel 2008 era stato premiato l'F32, mentre nel 2014 era toccato al Cursor 16.
Due saranno le cerimonie di premiazione del nuovo Diesel of the year. La prima al ConExpo di Las Vegas il prossimo 10 marzo, alle 14 (ora locale). La seconda, a beneficio del mercato europeo, è prevista al SaMoTer di Verona in apertura di un evento sui motori Stage V promosso dalla rivista DIESEL.
NOTA BENE: Gli organizzatori del SaMoTer hanno deciso di rinviare la manifestazione nel periodo 16 – 20 maggio, nel rispetto dell'ordinanza del ministero della Salute e della Regione del Veneto in merito al Covid-19. Vi terremo aggiornati nella prossima newsletter, citando il testo integrale del comunicato stampa. Appena possibile vi rendere edotti delle date di convegni e premiazione.