New Holland a Ecomondo con il T6.180 Methane Power
New Holland sarà presente per la prima volta a Ecomondo, la fiera europea per l'innovazione tecnologica e industriale sostenibile, che si terrà a Rimini Fiere, dall'8 all'11 novembre 2022.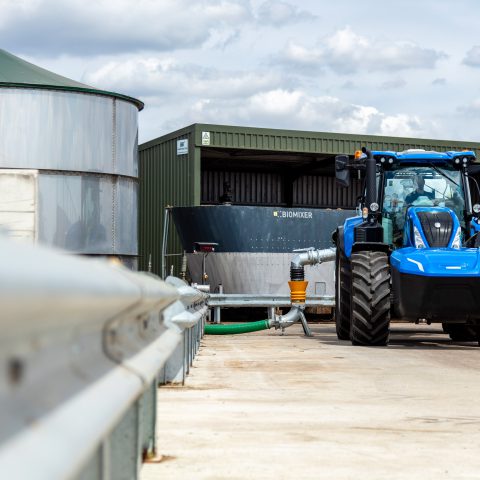 New Holland sarà presente per la prima volta a Ecomondo, la fiera europea per l'innovazione tecnologica e industriale sostenibile, che si terrà a Rimini Fiere, dall'8 all'11 novembre 2022.
Ogni anno durante la manifestazione vengono presentate le novità sul fronte dell'economia circolare e prodotti annessi alla sua adozione a livello industriale. New Holland, in qualità di Clean Energy Leader del settore della meccanizzazione agricola, sarà quindi presente con il T6.180 Methane Power, il primo trattore alimentato al 100% a biometano prodotto in serie, premiato come Tractor of the Year 2022 nella categoria Sostenibilità. 
L'elemento distintivo e l'unicità nel mercato del T6 Methane Power 180 CV è l'essere già oggi carbon neutral, grazie all'utilizzo del biometano. Questo innovativo trattore è il risultato del lavoro pionieristico nello sviluppo della tecnologia del biometano e uno degli elementi fondanti della strategia Clean Energy Leader di Cnj Industrial.
Il T6.180 Methane Power rappresenta il culmine di New Holland di un percorso iniziato nel 2006, per la promozione e lo sviluppo di una nuova generazione di mezzi a combustibili alternativi, dei sistemi di riduzione delle emissioni e delle tecnologie agricole sostenibili.
New Holland ha tra i suoi principali obiettivi e valori la promozione di un'agricoltura sostenibile, efficiente e redditizia attraverso tecnologie avanzate, connettività estesa e tecnologia di propulsione affidabile. ll trattore T6.180 Methane Power è uno dei tasselli fondamentali nell'economia circolare dell'azienda agricola energicamente indipendente.
T6.180 Methane Power: prestazioni senza compromessi
Il T6.180 Methane Power da 65 quintali ha performance e utilizzo in tutto e per tutto assimilabili a quelli della versione diesel. Questo è un requisito fondamentale per evitare qualsiasi condizionamento delle abitudini di guida degli operatori agricoli: 1 CV a biometano è uguale a 1 CV diesel. 
Dal punto di vista emissivo, il T6 Methane Power da 180 CV consente di ridurre gli inquinanti dell'80% rispetto agli attuali stringenti limiti emissivi Stage V, senza nessun compromesso in termini di prestazioni. Inoltre, ha permesso un cambio radicale del trattamento dei gas di scarico (After Treatment System), abbandonando sistemi quali Egr, Dpf, Scr e DOCb. Per di più, nella versione a metano vi è una riduzione della rumorosità del 50% rispetto al diesel.
La massima affidabilità ed efficienza del T6 Methane Power sono garantite dalla tecnologia New Holland e dal motore Fpt, leader del settore che ha sviluppato radicali interventi: 
Nuova turbina raffreddata a liquido per garantire le massime prestazioni di combustione in camera;
Nuovo sistema di iniezione biometano a 12 bar multipoint per ottimizzare la risposta al carico e la stabilità nei transitori;
Nuova geometria della camera di combustione, valvole e sedi valvole, specificatamente disegnate per gestire la dinamica di combustione del biometano;
Nuova mappatura della centralina, sviluppata e calibrata per il biometano per ottimizzare le prestazioni e gestire il timing di accensione della candela cilindro.
L'autonomia del trattore è fino a 8 ore, con un serbatoio in grado di contenere fino a 79 kg di metano con range extender, rendendolo adatto a impieghi medio-pesanti.
Alimentato dalla natura: l'azienda energicamente indipendente diventa realtà
Il focus di Ecomondo sull'innovazione tecnologica e industriale sostenibile promuove e valorizza il nuovo modello economico e culturale della bioeconomia circolare, ottimizzando il business delle realtà industriali impegnate nella produzione di risorse biologiche rinnovabili e la loro conversione, tramite tecnologie innovative ed efficienti di biotecnologia industriale, in prodotti a base biologica e da bioenergia.
Il T6.180 Methane Power è la soluzione eco-sostenibile di New Holland che soddisfa tutte le esigenze del mondo agricolo. In particolare, il suo inserimento ideale è nell'azienda bioenergetica che punta a essere indipendente dal punto di vista dell'approvvigionamento del carburante. Il T6.180 Methane Power rappresenta l'elemento fondamentale del concetto di azienda agricola con economia circolare, un nuovo approccio strategico in cui l'energia necessaria per i macchinari e le attività agricole è generata in autonomia dall'azienda stessa, utilizzando il biometano, una risorsa rinnovabile che si produce principalmente a partire da materiali avanzati. Questo trattore si può rifornire sia dalla tradizionale rete gas sia da specifiche stazioni a biomassa. Le emissioni di gas serra si trasformano così da problema a parte della soluzione, in un circolo virtuoso che già soddisfa i target di Cop26 con anni di anticipo (carbon neutrality).