Rolls-Royce presenta le tecnologie per la propulsione sostenibile a Euronaval
Rolls-Royce presenterà le sue tecnologie mtu per la propulsione sostenibile, la fornitura di energia, l'automazione e il servizio alla fiera marittima Euronaval di Parigi dal 18 al 21 ot-tobre (Hall 6, Stand 568), all'insegna del motto "Pioneering the journey to Net Zero"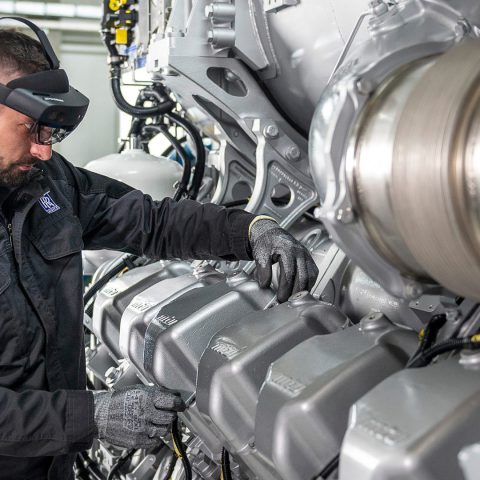 Rolls-Royce presenterà le sue tecnologie mtu per la propulsione sostenibile, la fornitura di energia, l'automazione e il servizio alla fiera marittima Euronaval di Parigi dal 18 al 21 ottobre (Hall 6, Stand 568), all'insegna del motto "Pioneering the journey to Net Zero".
L'attenzione si concentrerà su motori diesel mtu puliti ed efficienti, adatti anche all'uso con combustibili sostenibili; soluzioni innovative di servizi digitali; e le tecnologie future che l'azienda sta attualmente sviluppando inizialmente per l'uso nella navigazione commerciale e negli yacht. Questi includono sistemi ibridi, metanolo e celle a combustibile.
Klaus Schmidt, Director Naval Application Engineering presso la business unit Rolls-Royce Power Systems, ha dichiarato: "I temi della protezione del clima e della sostenibilità stanno attualmente acquisendo importanza nel settore navale. Vogliamo utilizzare Euronaval per avviare un dialogo con i nostri partner dell'industria e delle forze armate su quali soluzioni rispettose del clima saranno quelle giuste per diverse applicazioni navali".
Rolls-Royce Power Systems si sta evolvendo da produttore di motori a fornitore di soluzioni sostenibili integrate dal ponte all'elica. La business unit Rolls-Royce è pioniera nello sviluppo di motori a metanolo e ha già nel suo portafoglio sistemi di propulsione ibrida per applicazioni marine. Le soluzioni a celle a combustibile seguiranno presto come un'altra soluzione di alimentazione e propulsione rispettosa del clima. Il prossimo anno, Rolls-Royce lancerà i suoi motori marini mtu Serie 2000 e 4000 per combustibili sostenibili.
Ciò consentirà di ridurre le emissioni di CO2 dei motori diesel esistenti fino al 90%, rispetto all'uso del diesel fossile, senza alcuna modifica alle infrastrutture. Anche le future versioni dei collaudati motori marini mtu serie 1163 e 8000, che soddisferanno la direttiva Imo Tier III sulle emissioni con i sistemi mtu Scr, dovranno essere approvate per l'uso con combustibili sostenibili. Sono stati presentati di recente alla fiera Smm.
"Riteniamo che i combustibili sintetici da fonti sostenibili siano l'opzione più realistica per le applicazioni marine sulla strada per un uso più rispettoso del clima, almeno per le navi da combattimento più grandi", ha affermato Klaus Schmidt. "Come azienda che vuole sempre offrire ai propri clienti le soluzioni tecniche migliori e più adatte, siamo preparati anche per altri scenari attraverso i nostri attuali programmi di sviluppo. Non vediamo l'ora di scambiare idee con i nostri partner e clienti durante Euronaval e oltre."
Rolls-Royce a Euronaval con la realtà aumentata
La strategia del fornitore di soluzioni di Rolls-Royce Power Systems include anche la nuova tecnologia di realtà aumentata (AR) che l'azienda presenta a Euronaval. È una risposta alla sfida affrontata da molte marine di dover mantenere in funzione sistemi di propulsione sempre più complessi con meno equipaggio durante gli schieramenti più lunghi. La tecnologia mtu AR agisce come una sorta di assistente digitale: presenta il funzionamento dei sistemi di propulsione ed energia in modo molto chiaro e di facile comprensione attraverso una combinazione di testo, animazioni e video e può aiutare con lavori di manutenzione e riparazione. A tale scopo, il sistema AR proietta le informazioni sull'hardware fisico. Durante la manutenzione, ad esempio, mostra quali passaggi devono essere eseguiti come e con quali parti e strumenti sono necessari, tutti disposti sull'hardware fisico. Inoltre, il sistema AR può anche mostrare dove si trovano i componenti, ad esempio sensori che hanno attivato un messaggio di errore, e guidare l'utente lì.
La tecnologia mtu AR può essere utilizzata tramite occhiali o dispositivo mobile (tablet o smartphone). Fornisce una migliore comprensione di come funzionano i sistemi, semplifica la manutenzione, consente l'auto-aiuto anche senza molti anni di esperienza dell'equipaggio e aumenta la sicurezza a bordo. Questo nuovo sviluppo di Rolls-Royce offre un altro importante contributo per garantire che le marine possano svolgere la loro missione in modo affidabile e con successo.