I principali fornitori di propulsori per commerciali elettrificati
Vi riportiamo un nuovo articolo di Jamie Fox, analista di Interact Analysis, in cui dà uno sguardo ai principali fornitori di batterie, motori e altri componenti per veicoli commerciali elettrici e ibridi.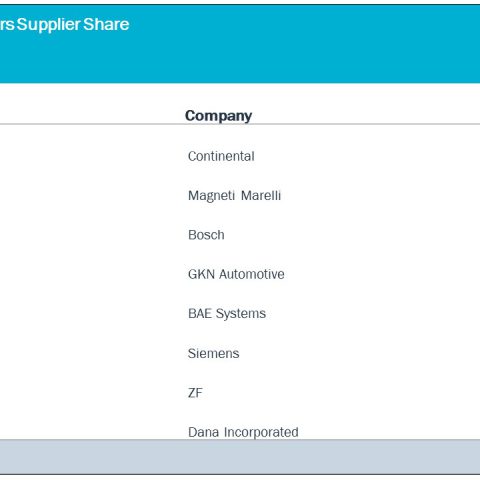 Jamie Fox ha oltre quindici anni di esperienza nelle analisi di mercato dei veicoli commerciali, compresi i veicoli elettrici. In questo articolo analizza i principali fornitori di propulsori di camion e autobus elettrificati.
I principali fornitori di propulsori
Interact Analysis ha recentemente prodotto il suo primo rapporto sui prezzi e sull'architettura del gruppo propulsore elettrico di camion e autobus. In questo approfondimento, vengono esaminati i principali fornitori di batterie, motori e altri componenti per veicoli elettrici e ibridi.
Mentre la transizione verso i veicoli elettrici comincia a costituire un certo slancio nel mercato degli autobus e dei camion, Continental è leader per i motori a trazione elettrica. Con così pochi autobus e camion elettrici venduti finora, è attualmente possibile arrivare in cima alla classifica avendo solo uno o due accordi importanti. La maggior parte delle unità di Continental e Magneti Marelli sono del Ram 1500 e-Torque, con Continental che si pensa fornisca il motore per la versione V6 del veicolo e Magneti Marelli per il V8.
Data questa dipendenza da un singolo accordo per la maggior parte delle unità, è facile vedere come questo quadro potrebbe cambiare drasticamente nel giro di un anno o due, quando nuovi veicoli arriveranno sul mercato e gli Oem prenderanno in considerazione diversi fornitori. Ci sono anche aziende, come Cummins e BorgWarner per esempio, che sono in grado di competere fortemente nei veicoli commerciali, ma non appaiono affatto nella classifica per il 2020. Il mercato dei motori nell'automazione industriale è molto più grande del settore automobilistico, quindi le grandi aziende di motori industriali, come Abb, Siemens e Parker, costituiscono una minaccia per i leader attuali e potrebbero impegnarsi maggiormente man mano che il mercato diventerà più grande. Tuttavia, non è ancora chiaro quanto siano convinti di investire nell'automotive pesante. Oltre ai fornitori citati, oltre il 30 percento dei motori nel 2020 sono stati prodotti in casa, anche in aziende come Renault e Nissan.
La classifica include motori per veicoli a celle a combustibile, Bev, ibridi, compresi quelli leggeri, che rappresentano una quota significativa. Se guardiamo solo ai Bev, o includiamo solo gli autobus o i veicoli pesanti, il quadro cambia drasticamente.
Batterie
Spesso il pacco batterie è prodotto in casa o confezionato internamente da un Oem o da un fornitore di powertrain dopo l'acquisto delle celle. La quota di mercato dei pacchi batteria non è stata analizzata da questo rapporto; tuttavia, alcuni dei principali fornitori sono indicati qui sotto.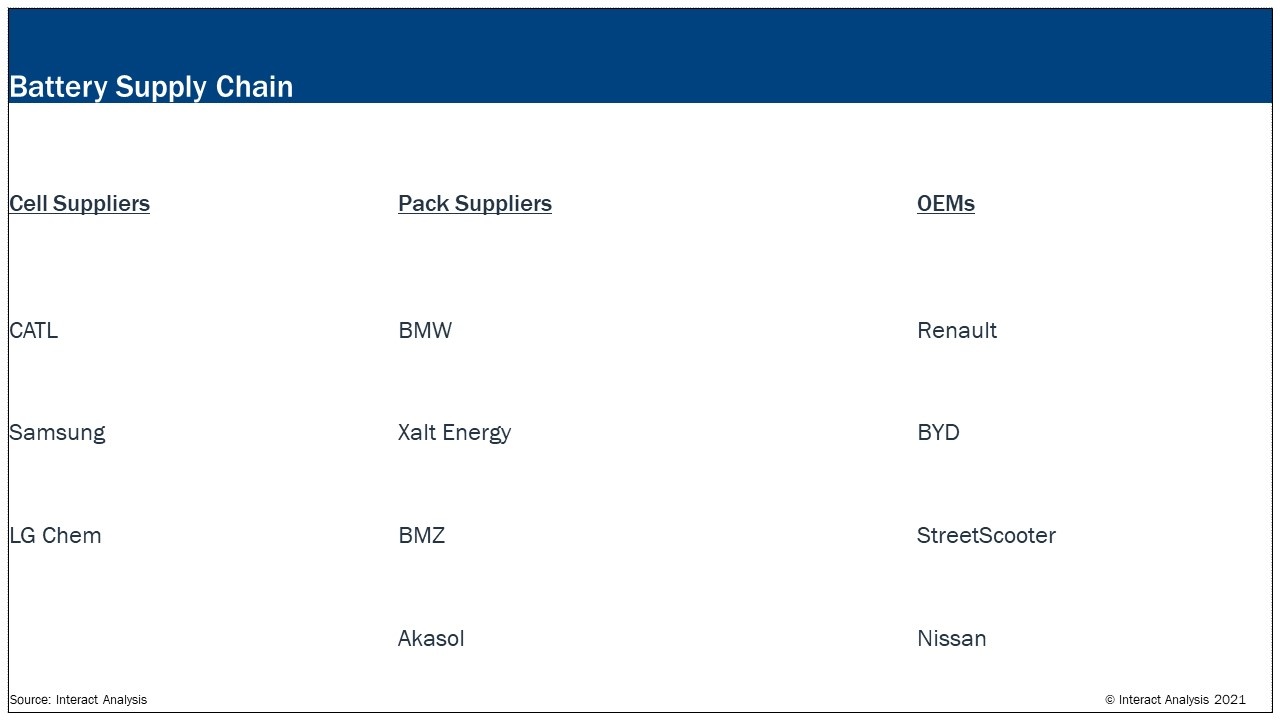 Idrogeno
Ballard è il principale fornitore di celle a combustibile. Altri attori di primo piano sono Hydrogenics (in orbita Cummins) e Intelligent Energy. Luxfer e Hexagon sono stati i principali fornitori nel 2020 di serbatoi di idrogeno. Altri ancora sono Worthington, Nproxx, Quantum e Iljin. In questo settore, il mercato non è così diversificato come le batterie e i motori, con i fornitori di cui sopra a rappresentare circa l'85 percento delle entrate combinate di celle a combustibile a idrogeno e serbatoi. Questi approfondimenti sono tratti dal recente rapporto "Electrified Truck and Bus Powertrain Pricing and Architecture".