Wacker Neuson, nuove pale al Conexpo e tanta fiducia nel 2017
Sessant'anni di Wacker Neuson negli Stati Uniti: al Conexpo 2017 è andata in scena la nuova linea di mini pale d'acciaio. Una delle punte di diamante nella produzione dell'azienda di Monaco di Baviera, che le ha introdotte nel mercato americano nel 2015, trasferendo oltreoceano anche l'iter di progettazione, sviluppo e realizzazione. La vetrina americana, dove […]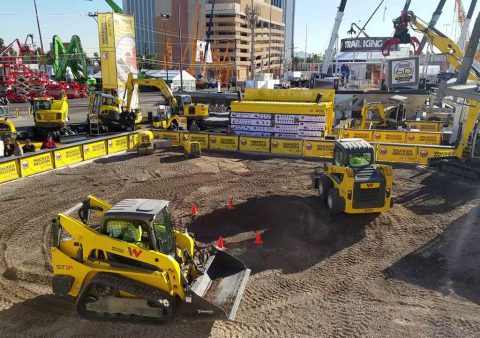 Sessant'anni di Wacker Neuson negli Stati Uniti: al Conexpo 2017 è andata in scena la nuova linea di mini pale d'acciaio. Una delle punte di diamante nella produzione dell'azienda di Monaco di Baviera, che le ha introdotte nel mercato americano nel 2015, trasferendo oltreoceano anche l'iter di progettazione, sviluppo e realizzazione. La vetrina americana, dove WN ha messo in piedi una dimostrazione live dei propri prodotti, non ha deluso le aspettative, anzi. Ora non resta che confidare nelle potenzialità benefiche dei trend economici 2017: dopo il duro 2016, a Monaco di Baviera si attendono bilanci in espansione.
Vertical digging system sugli scudi
Sulla ribalta di Las Vegas quelli di Wacker Neuson hanno messo in piedi una dimostrazione del Vertical digging system (Vds), chiamata "Vds Challenge". Il sistema realizzato dall'azienda per gli escavatori compatti ha il pregio di compensare la differenza di altezza in condizioni di terreno irregolare con la semplice pressione di un pulsante. Grande rilievo al Conexpo è stato dato anche ai prodotti delle serie a emissioni zero, grazie alle quali Wacker Neuson sta inscrivendo il suo nome nell'olimpo dei pionieri nel campo delle macchine da costruzione eco-friendly.
 Wacker Neuson, successo a stelle e strisce
"Making the story – building the future": questo è stato il motto della partecipazione di Wacker Neuson all'edizione 2017 del salone di Las Vegas, che ha significato un importante traguardo. Correva l'anno 1957 quando la società iniziò la produzione e commercializzazione di attrezzatura da costruzione negli Usa. «Quando Wacker Neuson guarda al futuro in nord America, lo fa poggiando su una solida base di sessant'anni di esperienza e di una profonda conoscenza del mercato, aspetti che ci offrono enormi possibilità di crescita», ha affermato il ceo Cem Peksaglam. Il successo di Wacker Neuson nella regione è iniziato coi demolitori idraulici, a cui il brand è indissolubilmente legato. Ma oggi WN offre molto di più, avendo allargato la propria gamma verso le attrezzature compatte. Tra le quali spiccano, appunto, le mini pale d'acciaio. «L'introduzione delle pale compatte realizzate su misura in base alle esigenze dei nostri clienti americani è stato un passo importante nella giusta direzione – sempre Peksaglam -. Oggi, i nostri rivenditori locali beneficiano di una delle più ampie gamme di equipaggiamento compatto e leggero».
Addio al 2016 con fiducia
Il 2016 per Wacker Neuson non è stato un anno esaltante. Tutte le speranze sono riposte nel 2017. Anche l'azienda tedesca, infatti, ha faticato a tenere la barra dritta durante l'anno passato: il fatturato nominale è calato dell'1 per cento, mentre l'ebit ha subito una limatura più consistente: meno 15 per cento (88,1 milioni di euro). Il margine dell'ebit è sceso dal 7,5 per cento al 6,5. Il 2016 è stato un anno di difficoltà economiche per tutto il settore, e per WN ha significato anche importanti investimenti: «Nonostante il periodo di turbolenza economica, abbiamo iniziato importanti progetti in modo da creare fondamenta più solide per il nostro successo futuro. Abbiamo aperto un nuovo stabilimento produttivo in Brasile e iniziato a costruire un impianto di produzione in Cina. Crediamo che sia fondamentale una presenza sul territorio sia dal fronte dello sviluppo sia da quello della realizzazione», ha affermato il ceo. L'aspettativa per l'anno in corso è quella di vedere il fatturato crescere fino ad assestarsi nella forbice tra 1,4 e 1,45 miliardi di euro (che sostanzierebbero una crescita tra il 3 e il 7 per cento rispetto al 2016). Il margine ebit dovrebbe crescere a una quota tra il 7,5 e l'8,5 per cento. Gli investimenti non mancheranno: il gruppo ha stanziato 120 milioni contro i 107 del 2016.