Il progresso marittimo a rischio per paura della digitalizzazione, secondo Wärtsilä
· Secondo il nuovo rapporto di Wärtsilä, il 70% dei professionisti del settore marittimo ha una chiara comprensione del motivo per cui la digitalizzazione è necessaria e dei suoi vantaggi, ma oltre due terzi ritiene che la capacità di digitalizzare le infrastrutture esistenti e il retrofit delle navi siano molto impegnativi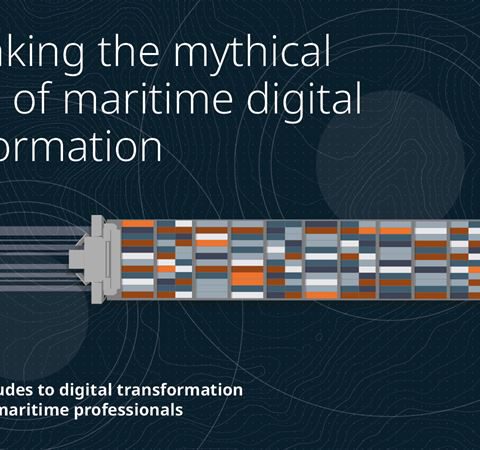 Secondo il nuovo rapporto di Wärtsilä, nonostante il 78% dei professionisti del settore sia d'accordo sul fatto che il cambiamento e l'innovazione tecnologica siano una cosa positiva per l'industria marittima, quasi la metà (45%) ammette di avere un atteggiamento volatile nei confronti della tecnologia e oltre un terzo (36%) affermano di essere attivamente resistenti al cambiamento.
Questo emerge dal nuovo report di Wärtsilä, Debunking the Mythical Beasts of Maritime Digital Transformation, che rivela anche che ben il 18% non pensa che il settore sia unito nella sua comprensione della digitalizzazione e del motivo per cui è necessaria.
Michael Christiansen, Vicepresidente, Smart Vessel, Wärtsilä commenta: "Questo rapporto chiarisce che il settore concorda sul fatto che la digitalizzazione è essenziale per il futuro delle spedizioni. Ma fino ad oggi sono stati compiuti pochi progressi tangibili a causa di interpretazioni molto diverse e vaghe di cosa significhi effettivamente digitalizzazione. La cosa interessante è che il nostro rapporto traccia sorprendenti parallelismi tra le paure e le incomprensioni che hanno dato origine a vivide storie di famosi mostri marini mitologici che vivono ancora oggi nel folklore ed evidenzia l'apprensione che molti professionisti marittimi moderni provano nei confronti dell'oceano in gran parte inesplorato della trasformazione digitale."
La ricerca fa luce su questi timori e malintesi, con oltre due terzi (68%) dei professionisti del settore che ritengono che la capacità di digitalizzare le infrastrutture esistenti e il retrofit delle navi sia una sfida, e oltre la metà (56%) concorda sul fatto che le implicazioni in termini di tempo e costi coinvolti in progetti di trasformazione digitale sono troppo elevati. Inoltre, il 63% ritiene che vi sia una mancanza di competenze e conoscenze tra i marittimi per soddisfare i requisiti delle nuove tecnologie.
Ma sul lato positivo, la ricerca evidenzia anche una chiara via da seguire. Ha rivelato che il 70% dei professionisti del settore ha una chiara comprensione del motivo per cui la digitalizzazione è necessaria e dei suoi vantaggi, ma il 69% ritiene che una maggiore collaborazione tra gli attori del settore potrebbe essere migliorata, con l'88% che concorda sul fatto che questa sarà la chiave per trasformare la trasformazione digitale in realtà. Significativamente, il 64% degli intervistati riconosce che le persone sono più cruciali per la trasformazione digitale rispetto alla tecnologia, quindi senza il consenso da parte di una percentuale maggiore di professionisti del settore marittimo fin dall'inizio, una trasformazione digitale di successo non sarà possibile.
Michael continua: "Come il mare, la trasformazione digitale è un grande unificatore. Siamo tutti sulla stessa barca. Il vero progresso avverrà solo quando abbandoneremo collettivamente l'idea della trasformazione digitale come tutto o niente. Poiché ogni organizzazione all'interno dell'industria marittima si troverà in una fase diversa del proprio viaggio, dobbiamo apprezzarlo come un processo iterativo e graduale. C'è ancora molto lavoro da fare per colmare le lacune – rompere i silos – tra i sistemi digitali. Per fare questo, possiamo e dobbiamo condividere e imparare dalle reciproche esperienze perché la digitalizzazione non sarà raggiunta da un solo attore. Dobbiamo lavorare insieme per costruire un ecosistema in cui le tecnologie digitali a bordo di una nave parlino con quelle negli uffici a terra. È così che, come settore, possiamo riformulare il percorso verso la digitalizzazione e trasformare le minacce in opportunità".
Il rapporto di Wärtsilä esplora gli atteggiamenti nei confronti della trasformazione digitale tra i professionisti marittimi in Europa e Medio Oriente, negli Stati Uniti e nella regione Asia-Pacifico. Svela le idee sbagliate sorprendenti che ostacolano il progresso e delinea come le organizzazioni possono vincere le sfide chiave per raggiungere un futuro migliore per tutti.