Agritechnica 2019
Agritechnica 2019: una prima lettura dell'evento All'Agritechnica 2019 è mancata la ressa all'ingresso, almeno fino a martedì, è mancata la presenza di Deutz, non sono mancati i trattori nuovi: tanti, a partire da Fendt, hanno ritoccato le gamme alte. E tra i motori? In questa sede parleremo delle anteprime: Fpt Industrial, Man, Kohler, Cummins e […]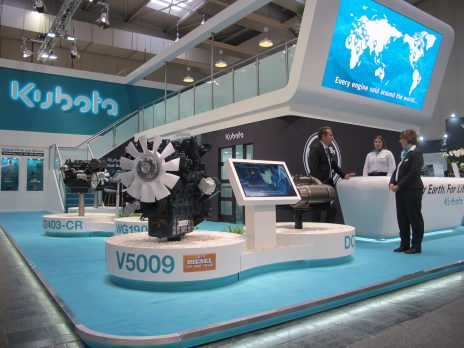 Agritechnica 2019: una prima lettura dell'evento
All'Agritechnica 2019 è mancata la ressa all'ingresso, almeno fino a martedì, è mancata la presenza di Deutz, non sono mancati i trattori nuovi: tanti, a partire da Fendt, hanno ritoccato le gamme alte. E tra i motori? In questa sede parleremo delle anteprime: Fpt Industrial, Man, Kohler, Cummins e John Deere. Cominciamo da Torino: si chiama F28, si mantiene sotto la soglia dei 56 chilowatt e colma il buco tra il 2,2 di origine Vm e il 3,2 litri, Diesel of the year 2008.
Il driver dell'innovazione investe in prima battuta la densità di potenza: la fatidica potenza di 55 chilowatt è resa possibile da un monoblocco più compatto del convenzionale 3,4 litri, ideale per il diametro di volta di trattori specializzati e utility, e peraltro già orientato a ipotesi di configurazione ibrida, proprio in ragione del rapporto LxWxH – potenza. Quello che più colpisce dell'F28 è però la sua natura duale: stesse corsa e alesaggio per la versione diesel e quella a gas, in rampa di lancio.
Come dice Fabio Rigon, Vice Presidente di Fpt Industrial Europe: «Offriremo anche una versione a gas naturale del motore per soddisfare la domanda di carburanti alternativi nel settore agricolo». Prodromi di Cursor X (il concept multifuel svelato al Tech Day 2018)?
A casa Man si respira soddisfazione durante la presentazione del D4276 alla platea agricola. Dopo il lancio al Bauma è arrivata l'investitura di Fendt per le applicazioni agricole. Il 16,2 litri è stato scelto nella taratura al top per la mietitrebbia Ideal 10: 581 chilowatt e 3.400 Newtonmetro tra 1.350 e 1.600 giri. Commenta Reiner Rössner, Head of Sales: «Con il D4276, offriamo agli OEM un motore facile da integrare e che aiuterà a differenziare le loro macchine dalla concorrenza, grazie alle sue caratteristiche prestazionali uniche».
Agritechnica 2019: Cummins, Kohler e John Deere
Cummins crede nell'agricolo e lo si è visto anche ad Hannover. Dopo il 6,7 con coppa strutturale, due anni fa, è giunta l'ora dei 4 cilindri, nella fascia da 67 a 149 kW. «Come parte della nostra gamma Performance Series, l' F3.8 offrirà prestazioni superiori e sostanziali vantaggi in termini di produttività per gli agricoltori che gestiscono apparecchiature alimentate da Cummins», spiega Ann Schmelzer, General Manager Global Agriculture di Cummins.
Kohler presenta Check App, a portata di click. È possibile registrare tutti i motori con matricola Kohler e attingere a una panoramica generale dello stato di salute del motore.
A livello di prodotto la gamma Kdi si arricchisce ufficialmente dei modelli da 105 kW e 650 Nm, delle versioni senza aftercooler e del range completo di powerpack per offrire un plug&play agli Oem meno strutturati.
John Deere spinge sull'elettrificazione e sul 13,6 litri. L'elettrico del cervo passa per soluzioni modulabili che utilizzano gli stessi componenti. La modulabilità si esprime anche nell'attenzione a connessioni idrauliche, come la Electric Pump Drive, e, in generale, a un compromesso tra elettrico e meccanico per agevolare i clienti nell'installazione.
SE AVESTE BISOGNO DI RINFRESCARE LA MEMORIA: CORREVA L'EDIZIONE 2017
A breve gli approfondimenti monografici su Cummins, Kohler, Kubota, John Deere, Perkins, Volvo Penta, Yanmar.