AS Labruna: a tutto service
AS Labruna è diventata Società Benefit. Il capitale sociale è aumentato, in ragione della crescita esponenziale del fatturato. Altro capitolo, che ci racconta Massimo Labruna, riguarda gli incontri con la rete del service di Fnm e quella di Fpt Industrial. Comune denominatore il servizio premium come missione e come prassi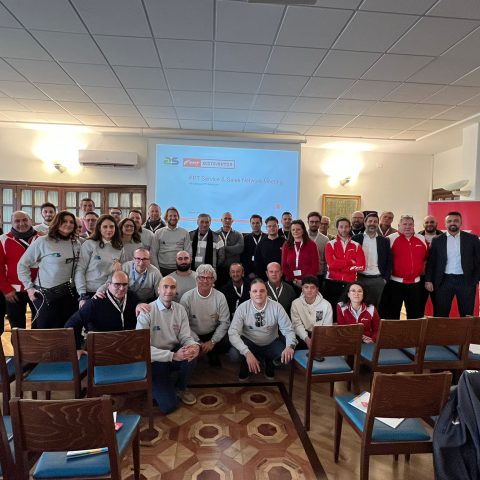 Quando un'azienda del Sud Italia passa dai 5 milioni del 2018 agli oltre 27 milioni del 2022, i riflettori si orientano automaticamente sul fatturato. In questo caso, trattandosi di AS Labruna, che ha effettivamente quasi sestuplicato il bilancio, preferiamo dedicarci al fatto che dal 29 dicembre 2022 è diventata una "Società Benefit". Che ci risulti, è il primo passo di questo genere da parte di un operatore del settore motoristico. Le attività di beneficio comune saranno rendicontate in un apposito bilancio, accompagnato al bilancio tradizionale. "In qualità di Società Benefit, ai sensi e per gli effetti della legge 28 dicembre 2015, articolo unico, commi 376-384 (di qui in avanti Legge di stabilità 2016), la società intende perseguire, altresì, una o più finalità di beneficio comune e operare in modo responsabile, sostenibile e trasparente nei confronti di persone, comunità, territorio e ambiente, beni ed attività culturali e sociali, enti e associazioni ed altri portatori di interesse".
Nell'evoluzione c'è sempre trasformazione o, perlomeno, differenziazione. Da semplice fornitore di endotermici, AS Labruna si dedica viepiù all'impatto sociale (vedi box), alla sostenibilità e all'enfasi sul post-vendita. Vi rendiamo conto, direttamente dalle parole di Massimo Labruna, dell'incontro con la rete di assistenza di Fnm, che fa capo a Monopoli per l'intero territorio nazionale, e con quella di Fpt Industrial, per le aree di competenza nel Centro-Sud.
«Il network di Fnm Italia si è riunito a Fiumicino, mercoledì 11 gennaio 2023, per fare il punto della situazione sull'andamento del mercato e sui progetti futuri» esordisce Labruna. «È stata la prima riunione post-Covid; l'ultima risale a gennaio 2020. È emerso il progetto di creare una rete premium per Fnm, alla presenza di oltre cinquanta officine, dalla Laguna alle isole. Fnm si è affermata soprattutto grazie al BlueHybrid. Per esempio, il cantiere Effebi ha ordinato altri 19 kit Bhs per equipaggiare le motovedette della Guardia di Finanza. Abbiamo illustrato le strategie commerciali sul service. Transitiamo da una gestione, per così dire, artigianale, a una più professionale, completa di procedure automatiche, check list, rapporti di intervento e training annuali a cui si sottopongono le officine (la prima si è tenuta il 3 febbraio ad Atella, sul Bhs), che devono dotarsi di apparecchiature elettroniche e adeguati stock ricambi per il primo intervento». Organizzare il network è nei cromosomi di AS Labruna, certificata Iso 9001 e Iso 14001 (certificazione ambientale), con tanto di responsabile per il controllo qualità. «Le sessioni di training ci consentiranno di formare le officine sulla gestione del software, della sezione elettrica e del pacco batterie».
Cosa è invece emerso dalla seduta plenaria della rete di Fpt coordinata da AS? Ci riferiamo a Molise, Marche e Abruzzo, per quanto riguarda la voce "sales", Campania, Calabria, Puglia e Basilicata, per il sales & service. Anche in questa cornice il termine "premium" si associa al servizio post-vendita. Labruna sfodera alcune cifre esemplificative: «Abbiamo un "ta" (time to arrival) di 2 ore; il "ta+tr (time to repair)" ha una media di 5 ore. Per quanto riguarda la certificazione di formazione del personale della manutenzione siamo al 100% in tre dei quattro livelli (meccanica elettronica di base; diagnostica elettronica; Ats). Al livello master, per ogni singola applicazione, siamo al 96%, cioè 26 persone su 27».
E non finisce qui. Massimo Labruna sottolinea che nelle interviste ai clienti AS ha riscosso l'83% di consenso allo status di promotori (coloro cioè che hanno espresso il voto 9 o 10). «La gara tra attori motoristici si gioca in buona misura sul servizio premium: telematica, diagnostica a distanza, estensione della garanzia fino 5 anni, piani di manutenzione specifici per il cliente. Le macchine Stage V hanno una complessità tale da richiedere una formazione adeguata anche per gli utilizzatori, quando non per i clienti, come ha fatto giustamente Avoni. La riunione è avvenuta alla vigilia di NauticSud. A Napoli è emerso che nel 2023 la domanda sarà ancora superiore all'offerta e pure il 2024 beneficerà degli ordinativi dell'anno in corso. La curva sarà da valutare tra fine 2024 e inizio 2025. L'elettrificazione avrà un'accelerazione, ma si parlerà di ibridi seriali, posso caricare in banchina ma devo disporre di un generatore, fuel-cell o alimentato a combustibili alternativi. Atrofizzandosi i volumi dell'automotive, i motori costeranno inevitabilmente di più. I prossimi due anni saranno lo spartiacque per capire le tendenze».
Infine, una notizia genuinamente verde. AS Labruna piantumerà 900 alberi: ogni termico marino avrà un "angelo custode" in grado di assorbire l'anidride carbonica equivalente a quella prodotta nell'utilizzo medio. Questa iniziativa si basa sull'accordo con la piattaforma Treedom, che dispone di terreni in tutto il mondo, con alberi di vario genere fotografati e geolocalizzati.
PUOI LEGGERE L'ARTICOLO COMPLETO SU POWERTRAIN DI MARZO OPPURE SCARICARLO QUI