Caterpillar regista di un progetto sull'idrogeno
Caterpillar ha proiettato il C13D, presentato al Conexpo di marzo 2023, nell'universo idrogeno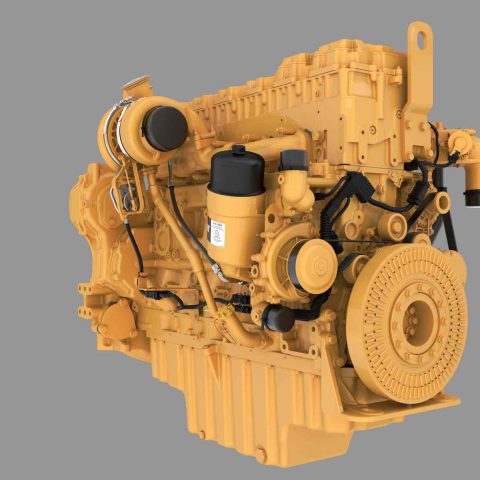 Il protagonista di questa sceneggiatura che vede coinvolti Caterpillar e l'idrogeno è il C13D. Caterpillar ha infatti annunciato oggi l'avvio di un programma triennale per sviluppare un'alimentazione ibrida a idrogeno basata sulla piattaforma del C13D (trovate qui la descrizione di un progetto di Cat legato all'idrogeno nella generazione).
Caterpillar si appresta ad avviare la ricerca sul 13 litri a idrogeno
A partire dal primo trimestre del 2024, Caterpillar svilupperà un sistema con capacità transitoria per applicazioni off-highway. Il progetto dimostrerà come i sistemi di controllo all'avanguardia e i componenti elettrici-ibridi possano aiutare i motori alimentati a idrogeno a soddisfare o superare la densità di potenza e le prestazioni transitorie dei motori diesel tradizionali. Caterpillar sarà l'attore principale del progetto e si occuperà della ricerca e dello sviluppo dei motori e dell'integrazione dei sistemi. Altri collaboratori industriali e accademici saranno progressivamente coinvolti nel programma per fornire ulteriori competenze specialistiche. L'iniziativa sarà realizzata presso gli stabilimenti Caterpillar di Chillicothe, Ill. e San Antonio, Texas. Il progetto, la cui ricerca inizierà nel 2024, è sostenuto e parzialmente finanziato dal Vehicle technologies office del Dipartimento dell'Energia degli Stati Uniti attraverso l'Office of Energy efficiency and renewable energy. Il progetto fa parte di 45 progetti in 18 Stati e Washington D.C., che ricevono finanziamenti per far progredire la ricerca, lo sviluppo, la dimostrazione e la diffusione in diverse aree critiche per la riduzione delle emissioni di gas serra nel settore dei trasporti. Il progetto di dimostrazione dell'alimentazione ibrida a idrogeno è l'ultima di una serie di iniziative che si basano sui 35 anni di esperienza aziendale della Caterpillar nel settore dei carburanti a idrogeno.
Le parole di Steve Ferguson
«Ogni applicazione off-highway ha cicli di lavoro, esigenze del ciclo di vita e aspettative di prestazioni uniche, e questa complessità sta portando allo sviluppo di un'ampia gamma di soluzioni energetiche per la transizione energetica», ha dichiarato Steve Ferguson, Senior Vice President Caterpillar Industrial Power Systems. «Una cilindrata non va necessariamente bene per tutti, ed è per questo che abbiamo inserito la flessibilità nel C13D come piattaforma del futuro».
Gli endotermici più puliti
Presentato a marzo al Conexpo 2023, il Cat C13D offre otto potenze da 340 a 515 chilowatt, con una coppia massima di 3.200 Nm. Il motore offre un aumento del 20% della potenza e del 25% della coppia a bassa velocità rispetto alla precedente generazione di motori diesel Cat della stessa classe di potenza. Il Cat C13D a sei cilindri in linea consente di utilizzare carburanti liquidi rinnovabili come Hvo al 100%, biodiesel distillato B100 e persino biodiesel standard B100 in collaborazione con il concessionario Cat locale. Oltre all'utilizzo dell'idrogeno, la sua architettura di base è progettata per lo sviluppo futuro di capacità di alimentazione a gas naturale con accensione a scintilla. Disponibile per i primi Oem a partire dal 2025 e previsto per la produzione nel 2026, il C13D è destinato a un'ampia gamma di attrezzature off-highway, tra cui frantoi, vagliatori e smerigliatrici, trattori, mietitrebbie, irroratrici semoventi e cippatrici, attrezzature per la movimentazione dei materiali e grandi pompe industriali.