Deutz e Liebherr. Non c'è solo il Diesel of the year
Deutz e Liebherr. Un binomio che ha condotto sulle rive del Reno la targa del Diesel of the year 2018. Un accordo che ha rilanciato le quotazioni di Deutz sulle applicazioni heavy – duty. Oltre al 9 litri, la famiglia in linea schiera un 12, un 13,5 e un 18 litri. Deutz e Liebherr. La […]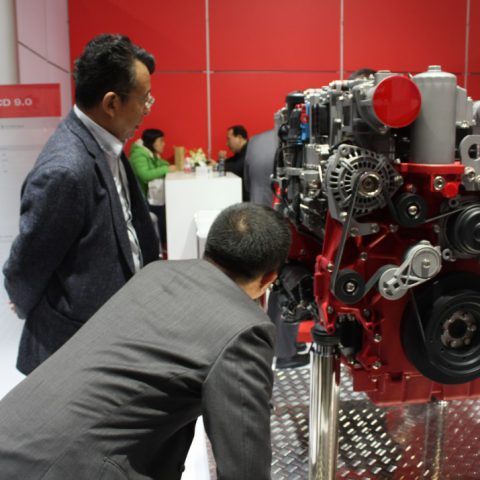 Deutz e Liebherr. Un binomio che ha condotto sulle rive del Reno la targa del Diesel of the year 2018. Un accordo che ha rilanciato le quotazioni di Deutz sulle applicazioni heavy – duty. Oltre al 9 litri, la famiglia in linea schiera un 12, un 13,5 e un 18 litri.
Deutz e Liebherr. La parola a Roberto Brivio
Un accordo che coinvolge le due aziende senza risparmiare nessuna articolazione. Basti pensare, per esempio, alle motorizzazioni con motori Deutz di alcune macchine Liebherr. Anche se allo stadio prototipale, è illuminate il caso del telescopico Liebherr TL 432-7, che durante l'Electrip di Colonia si è mostrato sia in versione full electric che equipaggiato da un TCD 2.2 da 55 chilowatt, in tandem con un motore elettrico a 48 volt da 20 chilowatt.
DEUTZ ITALY E BRIVIO. PRIMA PUNTATA
«Abbiamo distribuito l'intera gamma: il 9, il 12, il 13,5 e il 18 litri a diversi clienti. Si passa da un settore tradizionalmente sulle nostre corde come il drilling, al ferroviario, alle pompe ad alta pressione per il cemento e a tutti quei settori che per una serie di motivi ci erano preclusi dai buchi di gamma» ci tiene a sottolineare Brivio. Per quali ragioni Deutz abbia scommesso sulla sfida a nomi come Cat, Fpt, John Deere, Man, Mtu, Perkins, è presto detto. Brivio ci fornisce alcuni dati del bacino di ricettività di questi motori, circoscrivendolo al mercato italiano. Ragionamento estendibile allo scenario globale. «Per darvi un'idea di cosa significhi questo mercato in Italia» dice Brivio «tra 8 e 18 litri si parla di un mercato tra le 2.500 e le 5.000 macchine equipaggiate da motori di questa taglia. Circa il 60/70 per cento di queste sono macchine sono stazionarie, che per noi rappresentano un secondo target, essendo i nostri motori Stage V. Con le macchine Stage V, all'incirca 1.500 – 2.000 pezzi, ci rivolgiamo alla nostra quota di mercato standard, che oggi è al di sopra del 25 per cento. Il nostro obiettivo è diventare anche in quel segmento il numero uno, in un arco di 2-3 anni, cioè il tempo che serve a chi fa le macchine per installarle e ottimizzarle».
Full line e ragionamenti in prospettiva
Brivio puntualizza il senso dell'allargamento della linea di fuco di Deutz, oltre a quello, più che comprensibile, di schierare una squadra completa in ogni reparto, dai motori per trattori e minipale ai grandi escavatori e alle macchine da raccolta.
«Più il motore è alto di gamma, più il business è redditizio in termini di post-vendita, perché i motori di cilindrata e cavalli muovono le macchine che in cantiere lavorano di più e non si possono permettere fermi macchina. I motori di taglia medio-alta hanno un business continuativo. Per noi è fondamentale avere una prospettiva di lungo termine. Deutz ha un obiettivo dichiarato di 2 miliardi nel 2020; il 20 per cento del fatturato, 400 milioni, deve essere di service. Ci stiamo avvicinando a questo target crescendo del 10-15% l'anno».
IL VIDEO INTEGRALE DI QUESTA TERZA PUNTATA NEL MONDO DI DEUTZ ITALY