Deutz Stage V. Anche in Italia
Deutz Stage V. Al Bauma 2016 era 'ready', l'anno dopo già 'running' Deutz Stage V, una pratica sbrigata da tempo. Trovate sul prossimo link la cronaca della tattica che ha condotto Deutz ad anticipare gli avversari e a incassare per prima le certificazioni Stage V. QUESTO RIPORTAVA ALL'EPOCA DIESELWEB SU DEUTZ E STAGE V Qui […]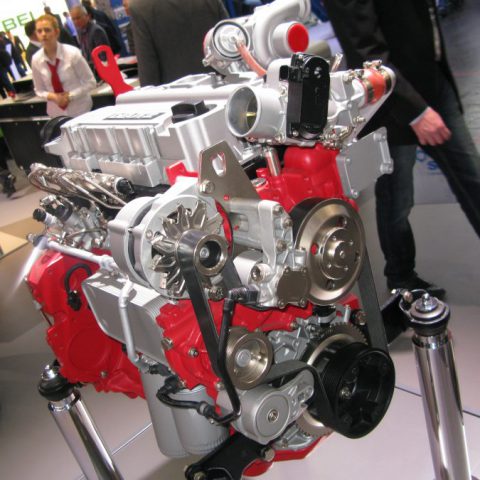 Deutz Stage V. Al Bauma 2016 era 'ready', l'anno dopo già 'running'
Deutz Stage V, una pratica sbrigata da tempo. Trovate sul prossimo link la cronaca della tattica che ha condotto Deutz ad anticipare gli avversari e a incassare per prima le certificazioni Stage V.
QUESTO RIPORTAVA ALL'EPOCA DIESELWEB SU DEUTZ E STAGE V
Qui di seguito trovate invece in forma scritta quanto Brivio ci ha raccontato nel primo dei quattro video che pubblicheremo nel corso del mese, che inquadra le premesse della 'internalizzazione' di Iml, il rapporto tra Deutz e Stage V e sciorina i numeri di un anno, il 2018, da incorniciare, per Colonia e per Lomagna. Un altro capitolo della saga del Diesel of the year 2018, il Tcd9.0.
A proposito di Deutz Italy. Dice Brivio…
«Siamo diventati ufficialmente Deutz Italy da poco più di un anno, dal 2 ottobre 2017, per la precisione. La gestione calendariale si sta concludendo in molto più lusinghiero del previsto. Diciamo che rispetto al target prefissato per conferire valore all'acquisizione, ci troviamo un passo oltre. Cosa significa? Il 2018 e il 2019 passeranno alla storia recente di Deutz come gli anni record in Italia. Il nostro mercato vale per Deutz oltre 30mila motori. In termini di fatturato significa una cifra superiore ai 200 milioni. Questi volumi riguardano tutto i motori importati in Italia, incluse le forniture a Same. Possiamo considerare strutturate le crescite esponenziali previste nel 2019. Crocevia cruciale, il 2019, che sarà l'ultimo anno di prebuy, dopo ben quattro stagioni di pre-buy nell'ultimo decennio. La vera sfida avverrà nel 2020, quando ci sarà verosimilmente una piccola onda di flessione, in attesa di ripartire da metà 2021. Con i numeri che ho citato, l'Italia rappresenta il più grande bacino di esportazione di Deutz in termini di fatturato, mentre in termini di volumi è il secondo dopo gli Usa (al di fuori, ovviamente, della Germania). Queste cifre danno il senso del perché Deutz abbia voluto diventare un attore diretto in Italia. Dal punto di vista gestionale non è cambiato nulla. Le nostre prospettive sono ottimistiche. In Italia c'è potenziale raggiungibile, nonostante la crescita di questi anni, che chiaramente dipende da fattori quali i prodotti offerti, dalla recettività e dalle fluttuazioni del mercato, dalla nostra capacità di entrarci».
Key Account a Lomagna
Prosegue Brivio: «Ma c'è un'altra grande novità, imminente. Dal prossimo anno potremo disporre di un nuovo staff di vendita completamente italiano, che abbiamo appena organizzato, dedicato al key account. Finora abbiamo seguito il key account con strutture miste italiane e tedesche, che sarà trasferito in toto a Lomagna e seguirà in esclusiva un numero di 10-15 clienti strategici. In Italia siamo diventati i numeri uno in termini di fatturato e di volumi. Per farvi capire meglio l'evoluzione del radicamento di Deutz, dal 1995 al 2018, fatturato e vendite si sono decuplicate, per pura attività diretta di vendita (fornendo quindi più motori a più clienti), non tramite acquisizioni e incorporazioni».
DEUTZ E STAGE V? TROVATE TUTTO IN QUESTO SECONDO CAPITOLO DELLA VIDEOINTERVISTA A BRIVIO