Il Diesel of the Year 2023 raccontato in un video
Il Diesel of the Year 2023 è stato assegnato al Next Generation DC13 di Scania Power Solutions. In questo post trovate il video della premiazione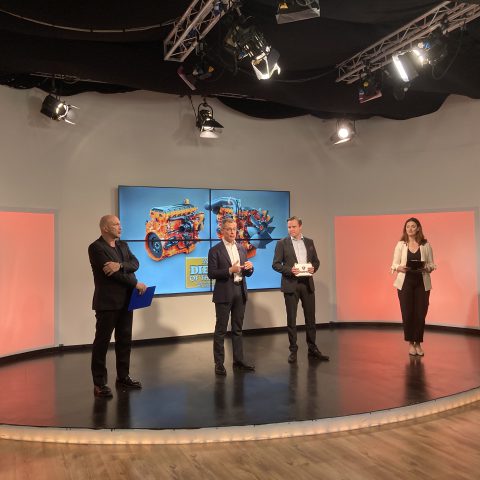 L'attesa della premiazione del Diesel of the Year 2023 è finita. Il Next Generation DC13 di Scania Power Solutions ha ricevuto l'investitura ufficiale da parte della giuria. La celebrazione si è tenuta presso gli studi televisivi situati nel distretto milanese del broadcasting. Seguite questo LINK per atterrare sulla registrazione della cerimonia. Agile, esplicativa, che ha radunato i principali protagonisti di questo evento.
Scania Power Solutions Next Generation DC13, Diesel of the Year 2023
Ha ricevuto la targa celebrativa Johan Thell, Marketing and Sales Area Manager di Scania, affiancato da Paolo Carri, Power Solutions Director Scania. A condurre le danze è stato Fabio Zammaretti, socio della Vado e Torno Edizioni e Presidente della giuria, affiancato dai giornalisti Maria Grazia Gargioni e Fabio Butturi, della redazione della rivista POWERTRAIN.
Vi regaliamo un'anticipazione. Alla domanda sui feedback del Super, il motore camionistico da cui deriva il Diesel of the year 2023, e sulle aspettative per le sue applicazioni industriali, Thell ha commentato così. «Lo Scania Super ha vinto il Green Truck Award 2022, a testimonianza del valore offerto da Scania. Per quanto riguarda i primi feedback sulla piattaforma del Next Generation DC 13, provengono dai clienti, che sono rimasti impressionati dalle sue prestazioni. Questo motore si basa sulla stessa piattaforma dei nostri autocarri, ma è stato appositamente progettato e sviluppato per applicazioni industriali e di generazione di energia. La differenza principale tra il motore camionistico e quello industriale è data dalla potenza e dalla coppia, senza compromettere l'efficienza dei consumi. Sui nostri motori industriali abbiamo utilizzato turbo ad alte prestazioni per ottenere la massima risposta ai transitori e, nelle applicazioni industriali, i requisiti dei nostri motori sono elevati sia in termini di prestazioni che di affidabilità».
Come affrontare la decarbonizzazione, qui e ora
Rendere onore al merito, in questo caso dello Scania Next Generation 2023, non significa solamente enfatizzare gli incroci virtuosi tra le curve specifiche ed esaltare l'esuberanza prestazione del motore. Per questo bastano le schede tecniche. Il progetto Scania, anticipato nell'allestimento per i pesanti del Grifone, come si evince dalla parole di Johan Thell, esprime la sua compiuta attualità nel conciliare le esigenze degli utilizzatori finali, in termini di Tco, e quelle che sovrintendono all'emergenza ambientale. Hic et nunc, equipaggiare una macchia da lavoro, che si tratti di un maxi escavatore, di un generatore di potenza o di altro, significa ottimizzare la resa termodinamica. Spremere, cioè, dal combustibile inserito il massimo della conversione in energia meccanica. In una parola, efficienza.
Sostanzialmente è quello emerge dalla visione della premiazione. Una strada in salita, quella che dovrà percorrere il Diesel of the year 2023, attrezzato di quanto serve per farlo nella maniera più brillante.