Fpt Industrial al World Biogas Expo con lo Smart Hybrid Hub
Al World Biogas Expo 2022, la principale fiera mondiale dedicata all'industria del biogas, Fpt Industrial ha presentato la sua soluzione per la generazione di energia alimentata da risorse rinnovabili: lo Smart Hybrid Hub, il primo concept al mondo di genset multimodale ibrido a bassa pressione e velocità variabile alimentato a gas naturale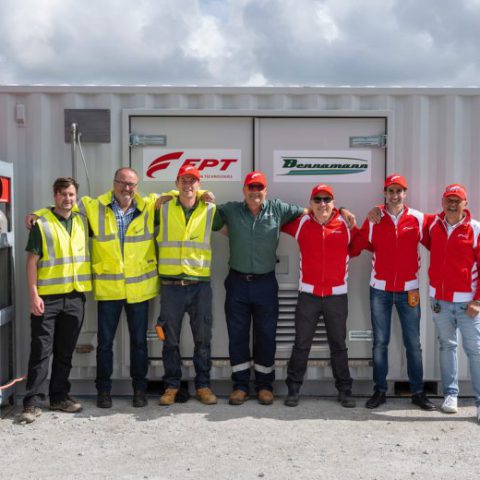 Fpt Industrial woapre la strada all'indipendenza energetica degli agricoltori al World Biogas Expo 2022, la principale fiera mondiale dedicata all'industria del biogas, tenutasi presso il National Exhibition Centre a Birmingham, Regno Unito, il 15 e 16 giugno, dove il marchio ha presentato la sua soluzione per la generazione di energia alimentata da risorse rinnovabili: lo Smart Hybrid Hub, il primo concept di gruppo elettrogeno ibrido, multimodale, a velocità variabile al mondo.
I visitatori hanno sono stati in grado di vedere "dentro" il genset e seguire, attraverso le pareti a led, l'intero ciclo, dalla produzione agricola alla generazione di energia elettrica fino al suo utilizzo all'interno o all'esterno dell'azienda. Questo concept è basato sul primo motore F28 a bassa pressione e a velocità variabile per la generazione di potenza, alimentato solo con il biometano ottenuto dalla digestione anaerobica dei liquami e dei rifiuti agricoli. Il motore è collegato a un sistema di Hybrid Control Management sviluppato da Fpt Industrial, che presenta una configurazione aperta con batterie e invertitore equivalente, a seconda del profilo di missione.
Fpt Industrial: lo Smart Hybrid Hub alla prova
Attualmente, sul primo prototipo di Smart Hybrid Hub sono in corso una serie di test e di sessioni di formazione presso la Chynoweth Farm di Truro in Cornovaglia (Regno Unito), cittadina che ospita il centro di Bennamann per la ricerca e il collaudo in loco. Tutte le funzionalità e le modalità di lavoro – ibrida, 100% elettrica, a batteria – sono state ripetutamente testate con il motore F28 a gas naturale alimentato con il biometano prodotto in azienda.
La versatilità del motore F28 NG va ben oltre l'utilizzo per le applicazioni di power generation. Si tratta infatti del motore montato sul prototipo di trattore cingolato New Holland TK Methane Power, attualmente al lavoro presso la premiata casa vinicola Fontanafredda per la produzione delle prime bottiglie di Barolo a zero emissioni entro il 2025. L'impegno di Fpt Industrial per l'agricoltura sostenibile e l'utilizzo del gas naturale è ulteriormente dimostrato dal motore Fpt N67 NG a sei cilindri, con potenza di 180 CV e coppia di 740 Nm, in grado di offrire le stesse prestazioni e la stessa durata di un motore diesel della medesima categoria. Questo motore è montato sul trattore New Holland T6.180 Methane Power, il solo trattore a biometano prodotto in serie oggi disponibile sul mercato, in mostra nello stand di New Holland Agriculture al salone World Biogas e recente vincitore del titolo "Tractor of the Year" per il 2022 nella categoria "Sustainable".