Himoinsa European Rental Workshop
Himoinsa ha rafforzato la sua posizione nel settore del noleggio con una soluzione di prodotto "Mobile Power" completa e un chiaro impegno per l'elettrificazione e l'uso di combustibili alternativi che segneranno la sua tabella di marcia verso la sostenibilità e le emissioni zero.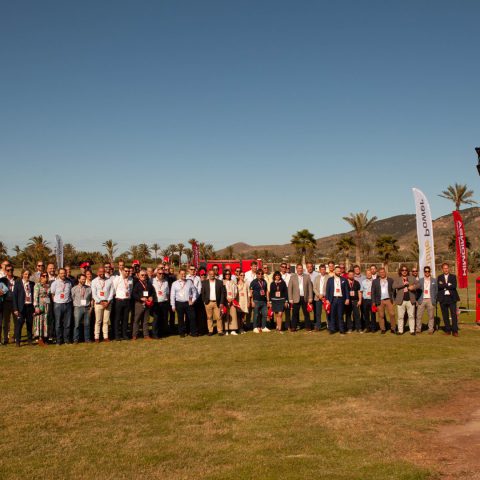 Himoinsa ha organizzato una nuova edizione del suo "European Rental Workshop" che ha riunito le principali società di noleggio europee e la stampa specializzata del settore. L'evento si è svolto dal 24 al 26 maggio a Murcia (Spagna), dove ha sede l'azienda.
Uno degli obiettivi primari di Himoinsa durante lo svolgimento del workshop è stato quello di fornire un punto di incontro in cui presentare le ultime tendenze in quello che è un mercato in continua evoluzione in cui l'elettrificazione delle apparecchiature, l'uso di combustibili alternativi, la digitalizzazione e l'efficienza energetica sono diventati forze trainanti sulla strada della sostenibilità e delle emissioni zero. A questo proposito, l''azienda si sta posizionando sul mercato come un produttore completo di "Soluzioni di tecnologia di alimentazione" e sta incorporando attivamente nuove tecnologie all'avanguardia delle tendenze di mercato nel suo portafoglio di prodotti tradizionali.
"Siamo impegnati nello sviluppo costante di nuovi prodotti, da qui l'aumento anno su anno dei nostri investimenti in ricerca e sviluppo: nel 2021 abbiamo investito il 20,5% del nostro Ebitda in ricerca e sviluppo", ci dice Francisco Gracia, presidente e direttore esecutivo. Gracia insiste su una combinazione di varie tecnologie (generazione, stoccaggio, distribuzione e illuminazione) per offrire al mercato un portafoglio di prodotti completo che includa anche gruppi elettrogeni a gas, diesel e Hvo, sistemi di accumulo a batteria, torri faro…
Himoinsa, which has been part of the Yanmar group since 2015, is constantly reinforcing its industrial capacity and is working closely with Yanmar's R&D departments on new equipment. "Our integration into Yanmar Energy System (YES) clearly signals our determination to continue to make progress in the power generation sector. Himoinsa is celebrating its 40th anniversary this year and we are ready to further strengthen our presence in the international market thanks to an ambitious industrial project and the commissioning of a new factory that will enhance the production of higher power generator sets, from 1MW upwards", adds Francisco Gracia.
Himoinsa, che fa parte del gruppo Yanmar dal 2015, rafforza costantemente la sua capacità industriale e lavora a stretto contatto con i dipartimenti di ricerca e sviluppo di Yanmar su nuove apparecchiature. "La nostra integrazione in Yanmar Energy System segnala chiaramente la nostra determinazione a continuare a fare progressi nel settore della produzione di energia. Himoinsa festeggia quest'anno il suo 40° anniversario e siamo pronti a rafforzare ulteriormente la nostra presenza nel mercato internazionale grazie a un ambizioso progetto industriale e alla messa in servizio di un nuovo stabilimento che potenzierà la produzione di gruppi elettrogeni di potenza superiore, da 1MW in su", aggiunge Francisco Gracia.
Himoinsa e il mercato del noleggio
Uno dei partecipanti all'"European Rental Workshop" è stato Murray Pollok, Managing Editor della rivista International Rental News, che ha presentato una panoramica del mercato europeo del noleggio, che nel 2021 ha realizzato un fatturato di 56,9 miliardi di euro, con una crescita significativa in Europa di 15,5%, Nord America 13,3% e Giappone 5%. "La pandemia ha portato a una grave riduzione dell'attività di noleggio fino al 9,1% in America e un calo dell'8% in Europa", ha affermato Pollok, aggiungendo che questo calo variava in base al Paese: Spagna (-13,5%), Regno Unito (-16%), Francia (-14%) e Italia (-12%). Le previsioni di ripresa sono comunque buone per il 2022, che dovrebbe raggiungere i livelli del 2019, per non parlare di una crescita del 5,7% in Europa nel 2023.
A questo proposito, il settore del noleggio è un mercato importante per Himoinsa, mercato in cui è cresciuta in modo significativo negli ultimi anni, grazie al fatto che ha bilanciato con successo la sua visione globale con azioni locali volte a soddisfare le esigenze di ogni regione, attraverso i suoi centri di ingegneria interconnessi in tutto il mondo, che monitorano da vicino le normative locali e analizzano le tendenze su base glocal. Guillermo Elum, Emea Region Head, afferma che il 32% del fatturato in Europa negli ultimi quattro anni è derivato dalla vendita di attrezzature a società di noleggio e prevede che questa cifra aumenterà nei prossimi anni a causa dell'incorporazione di nuovi "Mobile Power" come l'Ehr | Generatore a batteria, nuove torri faro…
Va da sé che, oltre allo sviluppo di nuovi prodotti, l'azienda punta a garantire un servizio post vendita rapido e di qualità, per questo ha sviluppato il suo "Self-Service Partner Program", rivolto ai propri concessionari e società di noleggio e progettato per garantire autonomia nella gestione sia del supporto tecnico che dei ricambi mettendo a disposizione del cliente una serie di piattaforme digitali per l'autogestione.