JCB Stage V è cosa fatta
JCB Power Systems dal principio JCB Stage V, anche l'altra sponda della motoristica britannica ha annunciato ufficialmente la ricetta per il 2019. La rincorsa della creatura della famiglia Bamford all'autarchia, per svincolarsi dall'abbraccio di Perkins, ha registrato un altro passaggio. Questa volta obbligato. Non lo è stato certamente quando Sir Anthony Bamford intraprese la strada della […]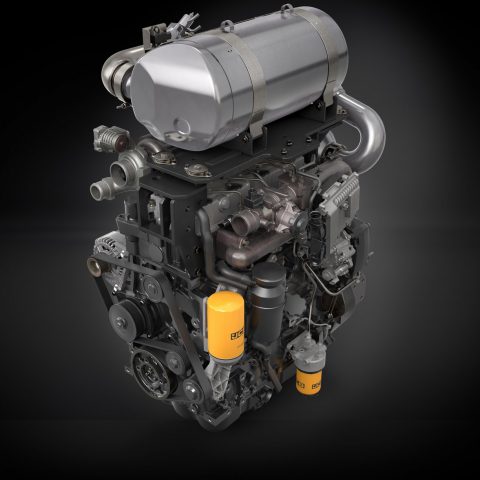 JCB Power Systems dal principio
JCB Stage V, anche l'altra sponda della motoristica britannica ha annunciato ufficialmente la ricetta per il 2019. La rincorsa della creatura della famiglia Bamford all'autarchia, per svincolarsi dall'abbraccio di Perkins, ha registrato un altro passaggio. Questa volta obbligato. Non lo è stato certamente quando Sir Anthony Bamford intraprese la strada della produzione in house del 4,4 litri Dieselmax. Così non lo fu il record del 2006 con la coppia di Dieselmax 'anabolizzati' da 560 chilowatt, come i chilometri orari toccati dal contachilometri nello Utah. Poi venne la maggiorazione della canna, a 4,8 litri, che originò l'Ecomax, Diesel of the year 2011. Infine il 6 cilindri Tier 2 per il mercato indiano e, al Conexpo di Las Vegas del 2017, il 3 litri.
IL DIARIO DEL DIESEL OF THE YEAR
JCB Stage V. Pacchetto completo
Nonostante il grosso del pacchetto motoristico sarà coinvolto dal primo gennaio 2020 (il 4,8 si arresta a 129 chilowatt) Jcb Stage V è una formula che si può pronunciare. Un passaggio cruciale per chi ha investito tanto del proprio vantaggio competitivo nel passaggio allo Stage IIIB senza l'ausilio del filtro antiparticolato.
Con l'imminente giro di valzer previsto dallo spartito di Bruxelles le cose cambiano, eccome.
C'è il filtro
La soluzione Jcb Stage V si chiama, tormentone della saga motoristica del terzo millennio, compattezza. Il Dpf sarà inserito nel canning del Doc e dell'Scr.
Cambia qualcosa per l'ultimogenito, il 3 litri. Sebbene le curve prestazionali del Dieselmax 430 da 3 litri resteranno ancorate a 55 kW e 410 Nm, spunta una wastegate elettronica. Il pacchetto di after-treatment sarà composto da Doc e Dpf. All'esordio anche tecnologia di arresto automatico. Gli intervalli di manutenzione sono allungati a 1.000 ore.
JCB POWER SYSTEMS E LA CARICA DEI 500MILA
Dice Tolley
Secondo Alan Tolley, Group Director of Engines di JCB:
«La tecnologia di controllo del particolato adottata da JCB è caratterizzata da combustione a basso contenuto di particolato, catalizzatore di ossidazione, filtro e sistema integrato di controllo del motore e della rigenerazione. Il motore è stato progettato per essere un sistema completamente integrato altamente affidabile, straordinariamente efficace e "invisibile" al cliente. I nostri sono sistemi compatti che vengono installati all'interno degli alloggiamenti motore esistenti delle nostre macchine».
A proposito del 3 litri, prosegue Tolley: «Il motore JCB 430 Dieselmax da 55 kW, equipaggiato con la nuova tecnologia di controllo del particolato integrata di JCB, sarà utilizzato in molte delle macchine di fascia media di JCB. Questo nuovo motore ad alta efficienza e coppia elevata offrirà ai nostri clienti vantaggi in termini di costo di proprietà, minori consumi di carburante, intervalli di assistenza prolungati e tecnologie di arresto automatico».
Infine, un commento sull'Ecomax: «I motori JCB 448 da 81-129 kW, dotati del nuovo controllo combinato del particolato e della tecnologia di riduzione del NOx di JCB, saranno utilizzati negli escavatori e pale caricatrici JCB, così come nelle terne, nei sollevatori telescopici e in altre macchine della gamma JCB».