John Deere e Rama Motori
L'ultra-trentennale sodalizio tra John Deere e Rama Motori si arricchisce del potenziamento di gamma, in ragione del 18 litri, Diesel of the year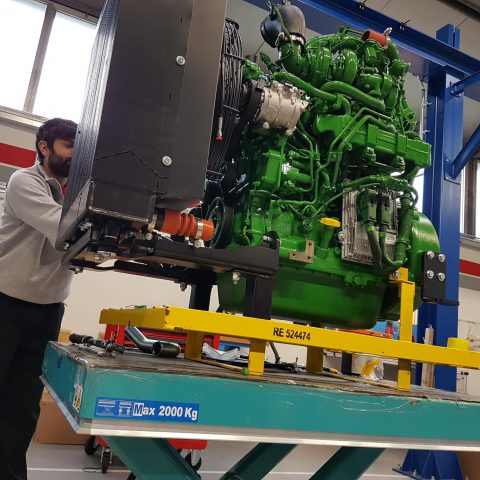 Quello tra John Deere e Rama Motori è un rapporto ultra-trentennale, sugellato quest'anno dal Diesel of the year 2021. Per Rama il 18 litri rappresenta infatti una novità sostanziale, che esula dalla fascia di potenza abituale.
L'epicentro di Deere e Rama? Un'area di 250 chilowatt
La zona nevralgica dell'area di intervento di Rama Motori si configura nell'intervallo tra 55 e 300 chilowatt. L'esacilindrico con canna da tre litri (corsa e alesaggio misurano 148 e 174 millimetri) consente al distributore John Deere Power Systems di aggredire applicazioni di nicchia finora impercettibili al radar reggiano. Si tratta di biotrituratori e frantoi, trivelle, presse e altre macchine speciali. Il 18.0L si presta anche ad applicazioni stazionarie e semi-stazionarie come quelle dell'oil&gas, che sono però più frequenti negli Usa, e, perché no?, grandi motopompe. Oltre alla versione Stage V per i mercati italiano ed europeo, Tier 4 Final il Nord America, è previsto un allestimento non emissionato, conforme ai parametri Tier 3.
Il 18.0L visto dall'Italia
Secondo Enrico Menozzi, responsabile dei motori industriali di Rama Motori: «Il 18 litri assomma una serie di caratteristiche interessanti per gli Oem, quali affidabilità, durabilità, e intervalli manutenzione a 750 ore. Il ciclo di vita, prima degli interventi strutturali di riparazione, è stimato in 20mila ore. Il sistema di combustione permette di erogare potenze tra 522 e 676 chilowatt senza l'utilizzo del post-trattamento. Un layout di questo tipo rappresenta il più grande vantaggio competitivo del motore». Per completare l'identikit, ricordiamo che la sovralimentazione contempla due turbo in serie, uno dei quali fisso e l'altro waste gate. Resiste il ricircolo, con l'Egr raffreddato, non più esterno ma integrato nel motore, per favorire la compattezza e semplificare il service. La coppia massima è di 4.250 Newtonmetro, ottimale per applicazioni heavy-duty premium. Un'altra novitàsono le pto sul treno di ingranaggi posteriore, SaeB e SaeC, fino a 902 Nm di coppia (451 l'una), rispetto alle prese di forza frontali, tipicamente presenti fino al 9 litri. La regolazione idraulica delle valvole permette di non intervenire sul coperchio punterie e gestire regolazioni idrauliche. Il peso è di 2.119 chili. Una battuta conclusiva sui recenti investimenti di Rama Motori, che ha allestito una linea di montaggio interna con quattro piattaforme sollevatrici e due carri ponte, per sollevare fino a 4 motori in contemporanea, per allestimenti power unit chiavi in mano per Oem, da supporti radiatori a filtri aria e scarico, fino al volano accoppiatore finale. L'operatore segue sul computer i passaggi del montaggio.