Il touchdown di Kohler
Kohler è tra i finanziatori dei Green Bay Packers, che si sono sfidati con i New York Giants al Tottenham Hotspur Stadium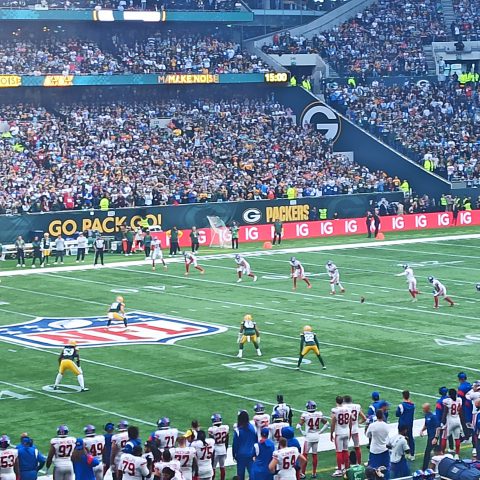 Quando la squadra di Green Bay, sull'onda emotiva del "Go! You Packers! Go!" urlato a squarciagola dal pubblico, in netta maggioranza per le divise giallo-verdi del Wisconsin, hanno concluso i primi due quart in vantaggio, l'entusiasmo nella VIP room di Kohler era palpabile.
Kohler e le radici nel territorio
Sebbene quel 20 a 10 sia stato ribaltato in un amarognolo 22 a 27 a favore dei Giants, la sostanza non cambia. Aaron Rodgers, Allen Lazard e Marcedes Lewis rimarranno impressi nella memoria dei fan londinesi dei Packers. L'operazione è riuscita: l'Nfl è sbarcata a Londra, in uno dei templi del football, quello nostrano, con la palla di cuoio rotonda, per intenderci: il Tottenham Hotspur Stadium. Nella suite 219, che ha ospitato il clan Kohler, si è respirato quell'attaccamento tra l'azienda e il suo territorio. I Green Bay Packers sono infatti espressione genuina e universalmente riconosciuta del Wisconsin e la Kohler, che detiene parte delle quote, all'interno di quello che è un esempio di azionariato diffuso. La stessa città di Kohler, toponimo ereditato dalla famiglia che ha fondato l'azienda di arredo bagno, cucine e di generatori che nel 2007 ha rilevato la Lombardini, si trova a poche decina di miglia dallo stadio dei Packers, il Lambeau Field. A dimostrazione di questa fortissima identità regionale i Packers possono vantare tante gare disputate nello stadio di Milwaukee, a breve distanza dagli acerrimi nemici dei Chicago Bears. Tante di questa sono state disputate nel corso degli Anni 60, dominati in lungo e in largo proprio dai paladini del Wisconsin.
Un secolo e mezzo
Quest'anno Kohler spegne la centocinquantesima candelina, sebbene il 2022 sarà impresso negli annali della società come l'anno della scomparsa di Herbert V. Kohler, Jr, al quale è succedo il figlio David. E non c'è solamente l'iniziativa della Nfl a portare lustro al prestigioso genetliaco di Kohler. Oltre alla terza assegnazione del Diesel of the year, grazia al Ksd, c'è l'acquisizione di Curtis Instruments ed Heila Technologies, che sanciscono il salto quantico di Kohler nell'empireo dell'elettrificazione. Infine, basterà attendere poco per vedere al Bauma Monaco gli ibridi con accoppiamento diretto diesel-elettrico e altro ancora.