Muner. In Emilia Romagna il top dell'automotive
Si chiama Muner (Motorvehicle University of Emilia-Romagna) e propone sei indirizzi di laurea internazionali e interuniversitari. Ci troviamo a Modena, la sinapsi delle intelligenze motoristiche che hanno fatto di questa fetta d'Emilia la terra promessa della meccanica. Muner (Motorvehicle University of Emilia-Romagna) Quando si dice fare sistema: la Regione Emilia-Romagna ha benedetto la sinergia tra […]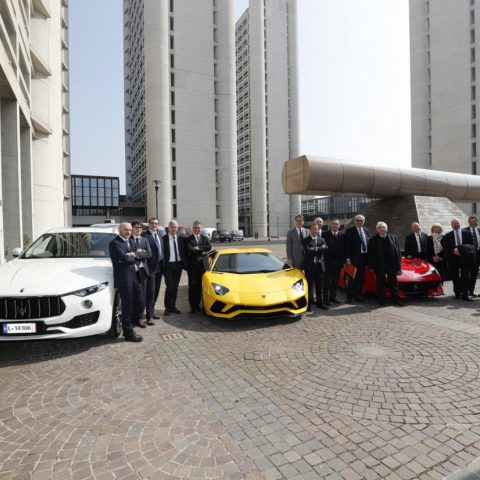 Si chiama Muner (Motorvehicle University of Emilia-Romagna) e propone sei indirizzi di laurea internazionali e interuniversitari. Ci troviamo a Modena, la sinapsi delle intelligenze motoristiche che hanno fatto di questa fetta d'Emilia la terra promessa della meccanica.

Muner (Motorvehicle University of Emilia-Romagna)
Quando si dice fare sistema: la Regione Emilia-Romagna ha benedetto la sinergia tra le Università di Bologna, Ferrara, Modena e Reggio Emilia e Parma e i neuroni d'eccellenza che formano il ganglio pensante e il braccio operativo di questa iniziativa accademica: Automobili Lamborghini, Dallara, Ducati, Ferrari, Haas F1 Team, Hpe, Magneti Marelli, Maserati e Toro Rosso.
Risale a giovedì scorso, 20 luglio, la cerimonia che ha tolto i veli alle sei lauree magistrali internazionali targate Muner. Ci troviamo a Varano De' Melegari, nel preappennino parmigiano; padrone di casa è Gianpaolo Dallara.
Muner a Modena
C'è tempo fino al 3 novembre 2017 per iscriversi ai corsi, rigorosamente in inglese e riservati a 150 studenti. Le specializzazioni sono quelle in Advanced Powertrain, Advanced Motorcycle Engineering, Advanced Sportscar Manufacturing, High Performance Car Design, Racing Car Design e Advanced Automotive Electronic Engineering.
C' è quanto serve per tradurre le intuizioni in idee e convertire quest'ultime in applicativi: i marchi coinvolti nel progetto forniranno ambienti, laboratori e strumentazioni di ultima generazione: banchi prova motore, banchi statici e dinamici, un simulatore professionale di guida e una galleria del vento.
Per le selezioni basta un click qui: http://www.international.unimore.it/bandilan.html <http://mailing2.infomail.it/bump/trampolino/92QA6APLECRCRP4WMNWO,XRK9I0465S6FDP4UHDW1,2356976256>
http://corsi.unibo.it/2cycle/AutomotiveElectronicEngineering/Pages/call-for-applications-20172018.aspx <http://mailing2.infomail.it/bump/trampolino/92QA6APLECRCRP4WMNWO,XRK9I0465S6FDP4UHDW1,2356976257>

I candidati che si iscriveranno entro il 28 luglio godranno della priorità nella fase di selezione.
Due parole sulla fisionomia dei corsi.
Per chi fosse interessato ai sistemi elettronici, informatici e di connettività, è riservato il corso in Advanced Automotive Electronic Engineering. Il primo anno verrà svolto a Bologna, il secondo anno a Modena.
Il corso in Advanced Motorcycle Engineering è focalizzato sulla progettazione ed allo sviluppo di un motoveicolo ad alto contenuto tecnologico, sia di serie, sia dedicato alle competizioni, con un focus sull'ingegneria elettronica e il design industriale, legati al disegno, alla meccanica delle vibrazioni, alla tecnologia meccanica, alla dinamica del motoveicolo, alla progettazione di motopropulsori endotermici e Bev allo sviluppo di sistemi di assistenza alla guida. In questo caso si invertono le periodicità: il semestre iniziale del primo anno sarà a Modena, la prosecuzione sarà a Bologna.
Il corso in Advanced Powertrain è stato sviluppato per gli studenti che intendono sviluppare una conoscenza approfondita in sistemi di propulsione dei motori a combustione interna, ibridi ed elettrici, con attenzione alla loro ottimizzazione, al controllo e alla soluzione delle problematiche ambientali ed energetiche. Il semestre iniziale a Modena, dopo di che la scelta per proseguire a Bologna o a Modena.
Per chi sentisse la vocazione a pianificazione, sviluppo, e gestione dei sistemi di produzione in ambito automotive, con un focus particolare sull'ingegneria di processo, la progettazione di impianti e sistemi industriali e sulle tecnologie digitali c'è il corso in Advanced Sportscar Manufacturing. Il semestre iniziale del primo anno sarà a  Modena mentre il secondo anno verrà svolto a Bologna.
High performance car design
Questo corso chiama in causa gli aspiranti ingegneri orientati alla progettazione dell'architettura di veicoli stradali ad alte prestazioni, attraverso lo studio dei principali aspetti di disegno e progettazione, con un focus su  dinamica del veicolo e Nvh, comportamento dei materiali, tecnologia meccanica, aerodinamica, termofluidodinamica, controlli automatici, elettronica e sensori. Integralmente a Modena.
Infine il più cool dei cool, dedicato all'architettura di vetture da corsa, che richiede attenzione al calcolo strutturale con materiali leggeri, compositi, manifattura additiva, aerodinamica e dinamica del veicolo. Stiamo parlando del corso in Racing Car Design, primo anno a Modena, il secondo a Parma e a Varano De' Melegari.
Who's who?
Bypasseremo l'anagrafica di Ducati, Ferrari, Lamborghini, Magneti Marelli e Maserati e spenderemo due parole sugli altri partner privati del progetto.
Giampaolo Dallara ha contribuito alle fortune ingegneristiche di Ferrari, Maserati, Lamborghini e De Tomaso, che ha travasato nel suo paese natale, la citata Varano de Melegari. Nel 1972 fonda la 'Dallara automobili da competizione' e riscuote successi in Formula 3 e in IndyCar.
Haas è un team americano di Formula 1 che prende il nome dal fondatore e affonda le radici a Kannapolis, in Carolina del Nord. Haas Automation ha la stessa paternità ed è esperta in macchine Cnc.
Chi è Hpe Coxa? Citando Quentin Tarantino, risolve problemi. In che campo? Porta la firma illustre di Piero Ferrari, il fondatore, ed è un fornitore di servizi di ingegneria e progetti per i settori automotive, motorsport, off highway, macchine automatiche e difesa.
Anche Toro Rosso non avrebbe bisogno di presentazioni. La Scuderia partecipa al Campionato del Mondo di Formula 1 dal 2006 con l'obiettivo di formare e mettere le ali ai campioni del futuro, che emergono dal Red Bull Junior Driver Programme.
Se è vero, come diceva Lorenzo De Medici, che 'del doman non v'è certezza' su questa basi il domani dell'automotive Made in Italy fa meno paura.