Rama Motori è il distributore dell'anno
Rama Motori ha ricevuto il premio di distributore dell'anno al Diesel Progress summit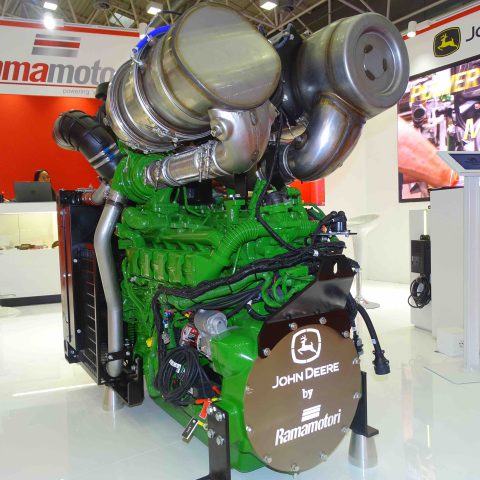 Rama Motori ha ricevuto il premio di distributore di motori dell'anno a Louisville, in Kentucky. Il riconoscimento, espressione della piattaforma editoriale di Diesel Progress, ha richiamato oltre 200 attori della filiera per affrontare il tema spinoso, e quanto mai di attualità, delle tecnologie della transizione. S'intende, "repetita iuvant", l'affollata arena dei combustibili alternativi (non solo biodiesel e combustibili di sintesi, anche etanolo e metanolo) e il convitato di pietra di ogni replica della parola transizione: il processo di elettrificazione. La premiazione è avvenuta durante il Diesel Progress summit, tenutosi il 24 e il 25 settembre presso il Galt House Hotel.
Passo dopo passo
Da Reggio Emilia di strada quelli di Rama ne hanno fatta parecchia. Risale all'anno scorso l'estensione della distribuzione John Deere Power Systems all'area balcanica. Alla fine dello stesso anno, Rama ha rilevato l'attività operativa di Hamilton, che controlla la distribuzione dei motori del Cervo in Svizzera e Austria.
Negli Usa l'investitura di Rama a distributore dell'anno
L'assegnazione dell'engine distributor of the year – International è dunque il meritato premio per l'opera di espansione, per quanto riguarda il legame tecnico-commerciale, con John Deere. Aggiungiamo noi, per la capacità di diversificazione (basti pensare alla distribuzione di Benevelli, finita nel frattempo sotto l'egida di un'altra prestigiosa azienda reggiana, la Zapi) e alla valorizzazione delle risorse interne. La motivazione del premio concorda con la nostra interpretazione: "La formazione è fondamentale e Rama ha dimostrato un'impronta molto forte in questo senso".
Parola a Paolo Coccolini
Paolo Coccolini, direttore generale di Rama Motori, ha così commentato: «Siamo sempre alla ricerca dei modi più intelligenti per premiare i nostri clienti Oem ciò di cui hanno bisogno e ciò che desiderano. Questo è lo scopo della nuova linea di montaggio: fornire un servizio premium agli Oem e ai clienti finali., con maggiore flessibilità di progettazione, qualità costantemente elevata e consegne sempre più rapide»·