Sustainable truck of the year 2019
Sustainable truck of the year 2019 Sustainable truck of the year 2019, Iveco e Scania sono ancora una volta i mattatori. Il podio è completato da Mercedes. Il diesel sopravvive, a patto che sia un anello di un progetto innovativo focalizzato sulla connettività. Guardando alle lunghe percorrenze autostradali, la strada è tracciata: il futuro è […]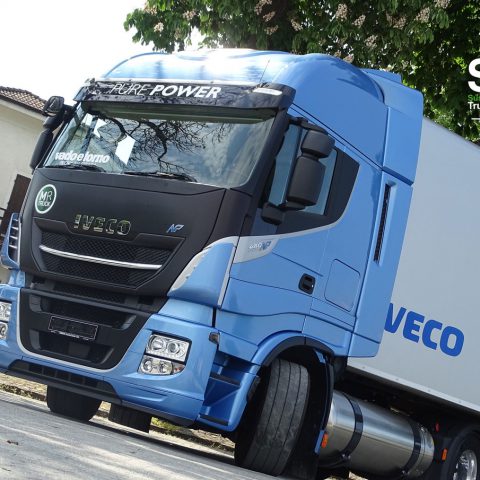 Sustainable truck of the year 2019
Sustainable truck of the year 2019, Iveco e Scania sono ancora una volta i mattatori. Il podio è completato da Mercedes. Il diesel sopravvive, a patto che sia un anello di un progetto innovativo focalizzato sulla connettività. Guardando alle lunghe percorrenze autostradali, la strada è tracciata: il futuro è dell'Lng.
Dal CNG al diesel al Gnl

Se un anno fa il gas aveva monopolizzato il terzetto di veicoli vincitori del Sustainable Truck of the Year, quest'anno la grande novità si chiama Mercedes Sprinter, che riporta il titolo riservato ai van nell'alveo del diesel. Rigorosamente a metano, tuttavia, i premiati col titolo al mezzo da distribuzione e al trattore stradale più sostenibile: gli scettri sono stati consegnati rispettivamente allo Scania L 340 Cng per l'accento sull'innovazione al servizio del trasporto e all'Iveco Stralis Np 460 in virtù della scommessa (vinta) sull'Lng.
Un premio ormai maturo, una partership di pregio, una concezione di sostenibilità che non si limita alle emissioni ma 'abbraccia' tutte le implicazioni dell'impatto del veicolo sull'ambiente e sulle comunità. Il Sustainable Truck of the Year 2019 è stato consegnato questo pomeriggio nella cornice di Ecomondo, a Rimini, punto di riferimento per la filiera della green e circular economy nell'area euro-mediterranea.
ECOMONDO, LA CASA DELLA SOSTENIBILITA'
Vado e torno, con lo zampino del PoliMi
Il premio, promosso dalla rivista specializzata Vado e Torno sulla scorta della collaborazione con il Politecnico di Milano, è giunto alla terza edizione e ha
come target le novità del mondo del camion disponibili sul mercato europeo
entro la fine del 2019. I riconoscimenti (tre le categorie: 'Van', 'Distribution' e
'Tractor') vengono assegnati in base a un concetto di sostenibilità e di efficienza
inteso non solo come riduzione delle emissioni inquinanti allo scarico, ma anche
come capacità di abbassare la soglia di rischio, di rendere più rilassante la
guida, di ridurre l'impatto di transito sulla popolazione residente e di uscire da
un ciclo produttivo che muova dall'inizio alla fine da concetti di sostenibilità.
SUSTAINABLE TRUCK OF THE YEAR 2019 E SOS
Quest'anno il Sustainable Truck of the Year ha inoltre inaugurato una collaborazione con Sustainable Logistics (SOS LOGistica), il primo marchio di logistica sostenibile. La cerimonia di consegna dello STY, pertanto, si è svolta congiuntamente alla consegna degli attestati alle aziende di logistica che per prime hanno ottenuto, nell'anno in corso, la certificazione di Logistica Sostenibile tramite processo di validazione da parte del Lloyd's Register.