Tractor of the Year 2020, i premi consegnati ad Agritechnica
Si è svolta nella giornata di apertura di Agritechnica, lo scorso 10 novembre, la consegna dei premi Tractor of the Year 2020, organizzati dalla rivista Trattori. Oltre al TOTY, giunto alla 23esima edizione, e ai riconoscimenti riservati alle categorie Best Utility e Best of Specialized, quest'anno ha esordito una quarta categoria, Sustainable Tractor of the […]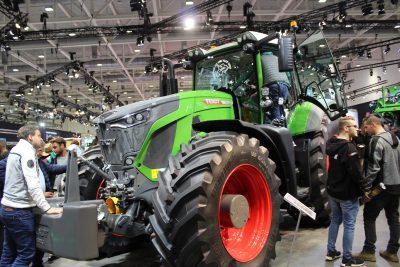 Si è svolta nella giornata di apertura di Agritechnica, lo scorso 10 novembre, la consegna dei premi Tractor of the Year 2020, organizzati dalla rivista Trattori. Oltre al TOTY, giunto alla 23esima edizione, e ai riconoscimenti riservati alle categorie Best Utility e Best of Specialized, quest'anno ha esordito una quarta categoria, Sustainable Tractor of the Year, con una valenza particolarmente attuale, evidentemente.
La giuria internazionale che ha decretato i risultati era composta da 25 giornalisti specializzati provenienti da tutta Europa.
Tractor of the Year 2020: Fendt 942 Vario
Nella categoria regina ha trionfato il Fendt 942 Vario, fiore all'occhiello della Casa di Marktoberdorf, modello di punta della serie 900 giunta alla sesta generazione, per la prima volta oltre la soglia dei 400 cavalli.
Il Fendt 942 Vario fa suo lo scettro detenuto dal Case Maxxum 145 Activedrive 8, vincitore l'anno scorso ad Eima International. A dare la misura del grande valore di questa vittoria è la caratura degli altri finalisti 2020, 'battuti' per una manciata di punti: il Case Magnum 380 CVX Drive, il Claas Axion 960 Terra Trac, il McCormick X7.624 VT-Drive e Valtra N154e Versu.
Best Utility: Fendt 314 Vario Profi+
La Casa di Marktoberdorf si concede il bis, trionfando anche nella categoria 'Best Utility' col nuovo Fendt 314 Vario Profi+. Audace e performante sia in campo aperto che tra gli angusti spazi delle strutture aziendali, il giovane rampollo della dinastia dei Dieselross si siede così sul trono lasciato libero dal suo stesso predecessore, il Fendt 313 Vario vincitore un anno fa nella medesima categoria.
Best of Specialized: New Holland T4.110 N
Il premio di 'Best of Specialized 2020' va invece a New Holland, con l'incoronazione di nuovo campione tra i filari dell'innovativo modello T4.110 N, mezzo all'avanguardia dotato di assale anteriore sospeso TerraGlide e curato nei minimi particolari per aziende che fanno della qualità il punto di forza della propria produzione.
Dopo il trionfo di Same col Frutteto CVT 115 S dello scorso anno, con la vittoria del New Holland T4.110 N prodotto nello stabilimento di Jesi, il titolo di 'Best of Specialized' resta in Italia a dimostrazione della grande tradizione 'nostrana' sul fronte dei trattori da vigneto e frutteto.
A New Holland il primo Sustainable TOTY
New Holland s'impone anche sul nuovo ring della sostenibilità, aggiudicandosi il titolo di 'Sustainable Toty 2020' col New Holland Methane Power equipaggiato con motore Fpt alimentato esclusivamente a gas naturale. Un trattore estremamente innovativo figlio dell'esperienza maturata con più generazioni di prototipi e ora pronto per il mercato. Le macchine previste in consegna per il 2020 sono una trentina a conferma che ormai la strada è aperta e il gas sarà una realtà anche tra i campi.