Volvo Penta fornisce la potenza per il rock!
Nove generatori equipaggiati con motori Volvo Penta D16 hanno alimentato lo Sweden Rock Festival la scorsa settimana utilizzando il 100% di carburante Hvo.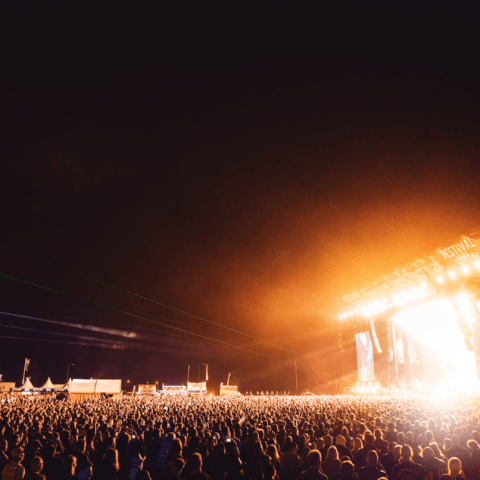 Lo Sweden Rock Festival è uno dei festival rock più famosi al mondo, non solo per il suo mix di rock classico, hard rock, metal e blues, ma anche per la sua filosofia ecologica di lunga data. Quest'anno ha ulteriormente rafforzato le sue credenziali ambientali utilizzando olio vegetale idrotrattato (Hvo) per alimentare i nove generatori equipaggiati con Volvo Penta del sito. Il motore D16 di Volvo Penta eroga 650 kVA e 520 kilowatt di potenza. I nove gruppi elettrogeni hanno una capacità massima combinata di 4,2 megawatt.
I motori per la generazione di energia da 16 litri sono stati responsabili dell'alimentazione e dell'illuminazione dei cinque palchi del festival che si è tenuto dall'8 all'11 giugno, assicurando che i 35.000 visitatori potessero vedere e ascoltare gli artisti, compresi i Guns N' Roses.
Dal 2016, tutti i motori a combustione Volvo Penta possono essere alimentati con carburante Hvo, puro o miscelato con diesel convenzionale. Ciò consente ai clienti di ridurre le emissioni di CO2 fino al 90%.
L'Hvo è un combustibile paraffinico rinnovabile, noto anche come diesel sintetico. Nei paesi nordici, la fonte di Hvo deriva in gran parte dai rifiuti forestali. Un numero significativo di clienti, in particolare nei paesi nordici, utilizza ora Hvo con motori Volvo Penta.
Volvo Penta e lo Sweden Rock Festival per la sostenibilità
Lo Sweden Rock Festival si tiene vicino a Sölvesborg, tra i prati e vicino al mare nel sud della Svezia. È stato pensando alla sostenibilità che il festival ha iniziato a utilizzare generatori alimentati da Volvo Penta, evidenziando il loro basso consumo di carburante come un fattore che ha contribuito a ridurre l'impatto ambientale del festival.
"La sostenibilità dello Sweden Rock è fondamentale", afferma Anders Östensson, coordinatore della sostenibilità allo Sweden Rock Festival. "Siamo sempre alla ricerca di soluzioni che ci aiutino a consumare meno energia e a migliorare la nostra impronta di carbonio, quindi essere in grado di alimentare i motori Volvo Penta con Hvo anziché diesel è una grande vittoria per noi. Questo cambiamento avrà un grande impatto: metà dell'elettricità del festival sarà fornita da questi generatori. È fantastico quando troviamo partner che possono aiutarci a fare la differenza".
"It's great to see Sweden Rock Festival reducing its carbon emissions by taking advantage of the fact that our engines can be powered by HVO," says Heléne Mellquist, President of Volvo Penta. "We have high expectations for the use of renewable fuels in regions where a sustainable supply can be provided."
Come parte del Gruppo Volvo, l'anno scorso Volvo Penta si è impegnata a raggiungere gli Science Based Targets, con l'obiettivo di diventare al 100% priva di combustibili fossili entro il 2050. L'azienda prevede di raggiungere l'azzeramento delle emissioni entro il 2040.