Diesel of the Year 2023: il comunicato stampa ufficiale di Scania
Il nuovo motore in linea da 13 litri Scania è stato premiato come Diesel of the Year da Powertrain, una rivista europea specializzata in motori per applicazioni industriali e automobilistiche. La nuova piattaforma di motori Scania offre un'efficienza senza pari per risparmiare carburante e ridurre le emissioni di CO2, offrendo un'eccezionale economia di esercizio e affidabilità.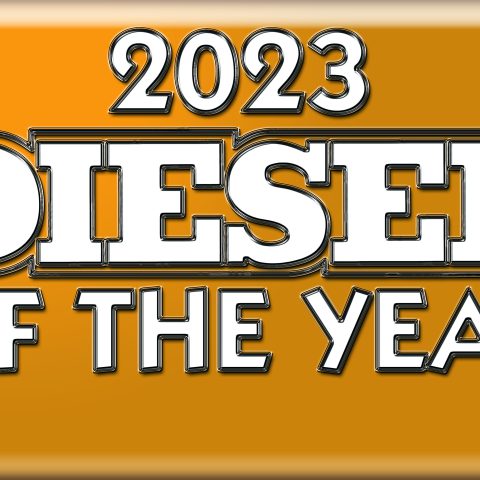 Per la prima volta Scania ha vinto il premio Diesel of the Year assegnato da Powertrain, una rivista europea specializzata in motori per applicazioni industriali e automobilistiche. Il Next Generation DC13 di Scania ha superato gli avversari grazie alla sua capacità di aggiungere valore al cliente in diverse dimensioni.
Prima di tutto, il motore da 13 litri è la piattaforma Scania più potente di sempre. Traendo vantaggio da decenni di esperienza ingegneristica interna svedese, Scania ha ottenuto prestazioni del motore senza pari: potenza aumentata fino a 450 kW, che corrisponde all'11% in più rispetto all'attuale DC13 (405 kW); migliore densità di potenza della categoria con 35,4 kW/L; 21% in più di coppia (3001 Nm) rispetto all'attuale DC13; e coppia elevata a bassi regimi (2660 Nm a 900rpm) sono alcune delle principali caratteristiche tecniche di questa nuova generazione.
Con l'introduzione di una nuova piattaforma di motori in linea, Scania sta compiendo un grande passo avanti verso il raggiungimento dei suoi obiettivi basati sulla scienza, in particolare per quanto riguarda la riduzione del 20% di CO2 dai prodotti entro il 2025 (linea di base 2015). Infatti, il nuovo DC13 aiuterà gli Oem con una riduzione fino al 7% delle emissioni di CO2, abbassando la loro impronta di carbonio. Inoltre, se il motore è alimentato da Hvo, risparmierà fino al 90% di emissioni di CO2 rispetto al diesel standard.
C'è un'ulteriore caratteristica di questa nuova piattaforma che contribuisce al suo valore aggiunto. Il motore di base è progettato per una durata fino al 50% superiore rispetto all'attuale piattaforma del motore in linea, che offre già una durata leader di mercato. La durabilità combinata con l'estensione Be10/MTBO a 25.000 ore di funzionamento (con rating ICFN) garantisce prestazioni ininterrotte nelle operazioni più impegnative.
"Lo Scania Next Generation DC13 è progettato per alzare notevolmente l'asticella dell'efficienza. Un motore delle dimensioni di un autocarro per impieghi gravosi, trasferito nell'affollata arena delle applicazioni industriali. La configurazione del motore, le caratteristiche e le prestazioni specifiche sono adatte ad affrontare una tripla sfida, per la sopravvivenza del motore a combustione interna in una prospettiva olistica: essere 'Tco friendly' e soddisfare le future regole della Fase VI (se ce ne saranno, ovviamente); per 'digerire' l'Hvo e i carburanti biogenici e paraffinici; abbracciare l'elettrificazione", ha dichiarato Fabio Butturi, Editor in Chief di Powertrain di Vado e Torno Edizioni.
"È un onore per Scania ricevere il premio Diesel of the Year per il nostro motore da 13 litri di nuova generazione, un prodotto progettato sia per oggi che per domani. L'efficienza del carburante e le prestazioni del prodotto sono state al centro dell'attenzione durante tutto lo sviluppo e, come potete vedere, il risultato è stato un motore davvero eccezionale tra le applicazioni industriali e un passo avanti verso la sostenibilità nel settore delle macchine mobili non stradali. Questa vittoria rafforza la fiducia che i nostri clienti hanno in noi e, a nome dei miei colleghi e amici di Scania, vi ringrazio sinceramente per questo premio", ha dichiarato Johan Thell, Area Manager di Scania Power Solutions.
"Questa nuova piattaforma porterà un valore concreto e tangibile ai nostri attuali clienti e ci aiuterà ad entrare in nuove applicazioni, sia in Italia che nel mondo", ha affermato Paolo Carri, Scania Power Solutions Director di Italscania.