Scania Next Generation DC13 è il Diesel of the Year 2023
Scania si aggiudica il Diesel of the Year 2023 con il 12,7 litri Next Generation DC13. Sulla base dalla piattaforma battezzata Super, allestita per i pesanti del Grifone, l'esacilindrico si presta esplicitamente agli impieghi industriali. Perché l'annunciata campana del termico non è ancora suonata.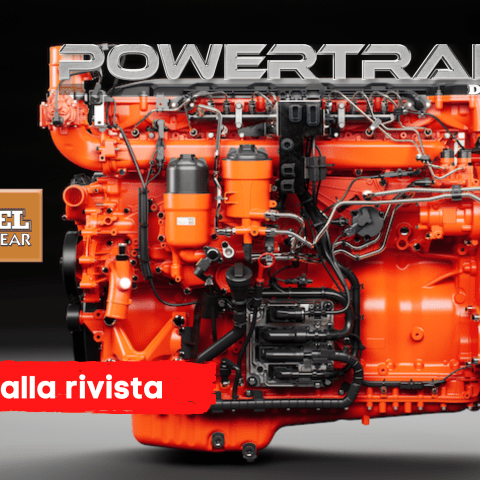 Pensi a Scania e associ quel marchio all'identità "premium" di un autocarro, soprattutto ai pesanti per la lunga percorrenza. Ripensi ai camion Scania, sollevi la calandra e ci trovi la triade, 9 e 13 litri e l'inossidabile V8 da 16 litri. Dal 2023 in avanti, soffermandosi a pensare a Scania, il pensiero dovrà per forza di cose rivolgersi anche alla caratura del Grifone tra le applicazioni industriali. Il Next Generation DC13, evoluzione del DC13, si è aggiudicato la diciottesima edizione del Diesel of the Year (leggi qui riguardo alla precedente edizione). Scania iscrive per la prima volta il proprio nome nel palmarès, scardinando un ostracismo che non dipende da nessun pregiudizio, ma dal semplice fatto che fino a ieri il Diesel of the Year ha premiato un monoblocco completamente di nuovo conio (nel presente e nel futuro prossimo molto dipenderà dall'entità e dalla velocità dell'emorragia di investimenti sugli endotermici). 
Sarà sempre "innovazione"
Il criterio cardine di questo premio, però, continua ad essere il concetto di innovazione. E il Next Generation DC13 lo interpreta nel migliore dei modi. A Södertälje hanno ottimizzato il cilindro del 13 litri (AxC 130×160 mm) e ribaltato il monoblocco, che ha agguantato un risultato prestigioso, finora inaccessibile ai concorrenti, tra le applicazioni industriali: il traguardo del 50% di efficienza. Anche per Weichai, che pure ha varcato per prima questa soglia, ritoccandola successivamente verso l'alto, insieme a Bosch. Un primato limitato, però, al perimetro stradale. Citiamo Henrik Nilsson, Scania's Director Product Management, Power Solutions: «Il nostro approccio mentale durante lo sviluppo della nuova piattaforma è stato quella di facilitare la transizione per i nostri clienti, con un impatto positivo sull'efficienza dei consumi e sulle prestazioni».
Il miglioramento del sistema di scambio dei gas, la riduzione dell'attrito interno e l'aumento dell'efficienza del turbo hanno prodotto un impatto positivo sui consumi. La curva di consumo specifico è disegnata in modo da valorizzare la sobrietà del ciclo di combustione. I test su strada, effettuati dai camion su percorsi commerciali, non concepiti ad uso e consumo della depliantistica, hanno confermato i valori registrati sul banco prova: la riduzione del consumo è contabilizzabile, mediamente, tra l'8% e il 10%. Il "papà" per applicazioni stradali si chiama Super, senza timore di smentita, ed ammicca alle future normative Euro 7 dell'Unione Europea. Permettetemi una breve introduzione, volutamente provocatoria. Ha senso premiare un motore a ciclo Diesel quando lo spettro del ban al motore endotermico si aggira per l'Europa? La risposta non può che essere che una: sì!
Perché gli orientamenti del legislatore e di parte dell'opinione pubblica si scontrano con l'infrastruttura e il dato di realtà. Il motore diesel ha lunga di vita di fronte a sé, con l'ipoteca di esprimere la migliore efficienza possibile. Lo esigono le ragioni dell'ambiente e i bilanci di Oem e utilizzatori finali. Uno spunto che ci consente di agganciare le ragioni del Diesel of the Year 2023. Questo premio vuole essere in prima battuta il riconoscimento al muscoloso investimento di Scania.
Il Next Generation DC13 è un monoblocco completamente nuovo, concepito per alzare ulteriormente l'asticella dell'efficienza. Operazione a misura di camion pesante, trasferita in nemmeno un anno nella trafficatissima arena delle applicazioni mobili industriali. E non solo! Siamo certi che il diporto e la generazione di potenza conosceranno e apprezzeranno la frugalità di un motore che si propone di mitigare l'impatto sulla CO2 senza bisogno di onerosi investimenti infrastrutturali e di alchimie normative. Le curve specifiche reggono il confronto con i pari taglia (lo abbiamo già provato con un confronto tra gli 11 litri. Il piano di rigenerazione di Scania ha infatti previsto una declinazione modulare, scalata a 5 cilindri). La risalita è promettente, per agevolare traslazione e picchi di sforzo. La configurazione, l'assetto e le prestazioni specifiche sono idonee ad affrontare una triplice sfida, per la sopravvivenza dell'endotermico in un'ottica olistica: omologarsi ai futuri parametri Euro 7 e Stage VI (se ci sarà); "digerire" Hvo e combustibili biogenici e paraffinici; abbracciare l'elettrificazione. E qui il Grifone vola sulle ali dell'entusiasmo: risale infatti al novembre 2021 del pacchetto elettrico di Scania Power Solutions. Se son rose, fioriranno, e siamo convinti che sarà un rigurgito di primavera. Non solo a Södertälje.
PER LEGGERE L'ARTICOLO COMPLETO CLICCA QUI O SCARICALO QUI SOTTO