#IOSTOCOLTRASPORTO: un ringraziamento speciale agli autotrasportatori
Più volte, nella situazione di drammatica emergenza che l'Italia (ma non solo l'Italia) sta vivendo, la categoria degli autotrasportatori viene citata come esempio di dedizione e spirito di servizio. Un servizio impossibile da fermare se si vuole garantire l'approvvigionamento – quantomeno – di derrate alimentari, generi di prima necessità e farmaci alle città e ai […]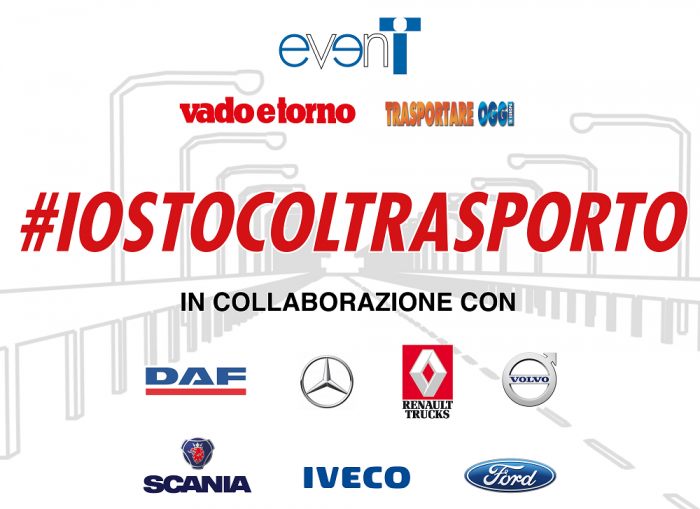 Più volte, nella situazione di drammatica emergenza che l'Italia (ma non solo l'Italia) sta vivendo, la categoria degli autotrasportatori viene citata come esempio di dedizione e spirito di servizio. Un servizio impossibile da fermare se si vuole garantire l'approvvigionamento – quantomeno – di derrate alimentari, generi di prima necessità e farmaci alle città e ai paesi dello Stivale.
Proprio pensando agli autotrasportatori, dunque, evenT, la nuova realtà dedicata agli eventi e alla formazione per il mondo del Trasporto nata dall'esperienza di TForma, Trasportare Oggi in Europa, Vado e Torno Edizioni e Vado E Torno Eventi, ha deciso di promuovere la campagna #IOSTOCOLTRASPORTO. Qui sotto il video realizzato per l'occasione.
Un hashtag per gli autotrasportatori in prima linea
#IOSTOCOLTRASPORTO è un hashtag per ringraziare il lavoro straordinario delle migliaia di autotrasportatori che tutti i giorni combattono in prima linea per il benessere della nostra società; un hashtag per unire tutte le maestranze del settore nella battaglia comune, quella di un popolo intero, contro il coronavirus; un hashtag che sappia infondere speranza, in un momento difficilissimo che richiede lucidità e coesione da parte di ognuno di noi.
I VINCITORI DEL SUSTAINABLE TRUCK OF THE YEAR 2020
#IOSTOCOLTRASPORTO, la campagna che unisce le forze del settore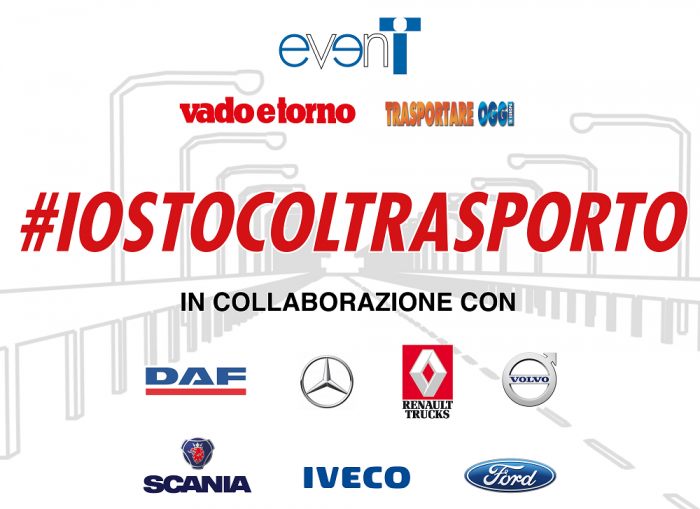 La campagna #IOSTOCOLTRASPORTO è stata realizzata in collaborazione con i maggiori produttori di mezzi pesanti europei: DAF, Ford Trucks, IVECO, Mercedes-Benz Trucks, Renault Trucks, Scania e Volvo Trucks, che hanno voluto diffondere, dalla viva voce dei loro manager, un messaggio di speranza e incoraggiamento attraverso la condivisione di contributi video.
LA PRESENTAZIONE DELL'E-TRUCK NIKOLA TRE
Dopo la gratitudine espressa dalla ministra Paola De Micheli, dalle maggiori associazioni di categoria e dalle aziende di trasporti, sono state tante anche le parole di encomio che sono arrivate dalle maggiori case produttrici di trucks.