Kohler, Irene Grandi e il lieto congedo del Doty 2022
Kohler Winter Party 2022, Palahockey Fanticini, con Irene Grandi e Antonio Ornano. Ci troviamo a Reggio Emilia, a 3 chilometri circa dal quartier generale di Kohler Engines, sito in via Cavaliere del Lavoro Adelmo Lombardini ("memento" delle radici reggianissime dell'azienda). Quella stessa sede che si è travasata proprio lì, per gli auguri natalizi della "community", […]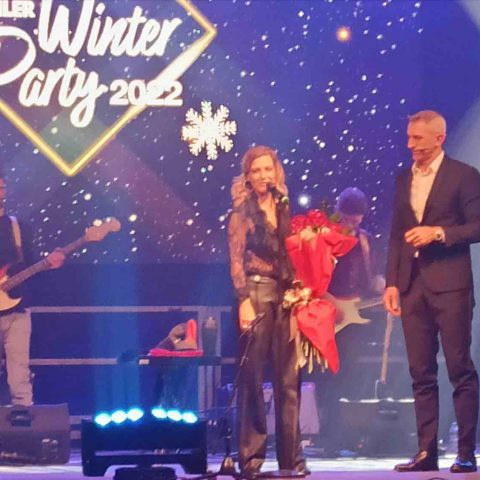 Kohler Winter Party 2022, Palahockey Fanticini, con Irene Grandi e Antonio Ornano. Ci troviamo a Reggio Emilia, a 3 chilometri circa dal quartier generale di Kohler Engines, sito in via Cavaliere del Lavoro Adelmo Lombardini ("memento" delle radici reggianissime dell'azienda). Quella stessa sede che si è travasata proprio lì, per gli auguri natalizi della "community", per dirla al passo coi tempi.
I 'Grandi' festeggiamenti di Kohler
Il senso di affiliazione alla comunità si misura con l'empatia. Non che esista uno strumento per calcolarla, la si percepisce sfoderando un metro della stessa sostanza di cui è costituita: insomma, l'empatia si misura con un'intuizione empatica. Per farla semplice, al termine di un anno coronato da annunci, presentazioni e premiazioni (per esempio l'assegnazione del Diesel of the year 2022 al Kohler Ksd) Kohler ha organizzato un momento di effusioni amicali, uno scambio di "coccole". Ha fatto da collante Nino De Giglio, che ci ha ricordato come il volume di motori licenziati a Reggio Emilia sia duplicato e sia triplicato il numero dei cilindri. Un effetto lievitazione che ha ingenerato la necessità del terzo turno produttivo.
Irene Grandi e Antonio Ornano
De Giglio ha fatto gli onori di casa ed è stato l'assist man. E i due realizzatori della doppietta? In prima battuta Antonio Ornano, natali spezzini, cinquantenne, scuola Zelig, ha strappato più di una risata alle donne e agli uomini Kohler assiepati sugli spalti dell'impianto reggiano. Dopo di lui la fiorentina Irene Grandi, che non ha bisogno di presentazioni, impegnata in un "quasi medley" di cover dall'eco timidamente swingheggiante e più decisamente blueseggiante, con una gran voglia chitarrista di rock, per poi lanciarsi sui cavalli di battaglia del suo repertorio, come "In vacanza da una vita".
I saluti del Diesel of the year 2022
Si appresta a calare il sipario sul 2022, che si abbasserà anche sul Diesel of the year 2022. Chi sarà il prossimo? È ancora presto per anticiparlo. Di sicuro, per il Ksd di Kohler si preannuncia un anno intenso, con accelerazioni sugli abboccamenti con gli Oem e i primi "tagliandi" delle versioni in fase di prova sulle macchine. Prima o poi anche il Ksd si aggiungerà alla lista degli ibridizzati. Nel frattempo, in India, ad Aurangabad, è tutto pronto per il taglio del nastro della linea produttiva del Ksd.