Le novità Scania che vedremo al Salone Nautico di Genova
Il settore marino si conferma strategico per Scania Power Solutions che continua il suo percorso di crescita, presentando al Salone di Genova motori dalle prestazioni eccezionali, elevata sicurezza e bassi consumi. Con un portafoglio in continua evoluzione e una crescente presenza sul territorio, Scania è in grado di soddisfare un'ampia gamma di applicazioni.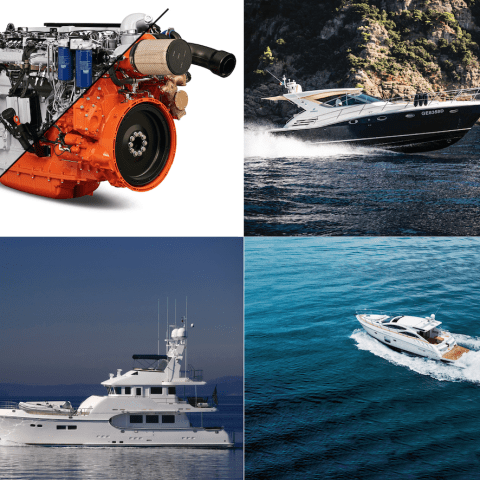 Scania Power Solutions partecipa al Salone Nautico di Genova in programma dal 21 al 26 settembre 2023 nel capoluogo ligure. Durante la manifestazione punto di riferimento globale per istituzioni, tecnici, operatori e appassionati della nautica e del mare, Scania sarà presente all'interno della Zona Power Village (Stand YPC01).
A seguito di una forte crescita nel mercato delle applicazioni industriali e power generation in Italia e nel mondo, Scania si rafforza anche nel settore marino, ampliando e diversificando il portafoglio e la presenza sul territorio.
Il portafoglio Scania dalle prestazioni considerate tra le più efficienti sul mercato si distingue anche in questo campo per affidabilità ed economia dei consumi. Oltre un secolo di ingegneria motoristica è racchiuso in motori da 700 a 1.150 CV, disponibili anche nel segmento yacht da diporto per uso privato e charter. Che si tratti di un Open sportivo, di un filante Double Deck o di un solido Explorer, le caratteristiche di estrema durata e operatività dei motori marini Scania contribuiscono ad offrire prestazioni eccezionali, elevata sicurezza e bassi consumi.
A completamento della gamma di prodotti per il diporto, tutti certificati RCD2 con range di potenza ai vertici della categoria, Scania dispone di una rete di assistenza competente e in espansione. Grazie al modulo C300 per la diagnostica a distanza, la rete Scania è in grado di identificare anomalie e problematiche legate al funzionamento del motore riducendo, così, tempi e costi di intervento.
"Stiamo riscontrando un grandissimo interesse attorno alla nostra attuale gamma di prodotto, con il V8 che viene riconosciuto non solo quale icona di ingegneria Scania ma come propulsore dal rapporto peso/potenza senza eguali. Su questa solidissima base, nel futuro prossimo vedremo il debutto nel marino della nuova piattaforma 13 litri, fresca vincitrice del Diesel of the Year 2023, e di una gamma altamente integrata di soluzioni ibride", dichiara Riccardo Moraglia, Responsabile Vendite Motori Marini di Scania Italia.
"Non è solo da un prodotto in continua evoluzione che si evince la strategicità per Scania del settore marino. Sappiamo benissimo che, dall'installazione, al commissioning e soprattutto poi al service, la squadra può davvero fare la differenza. In questa prospettiva, stiamo continuando ad investire sulla nostra organizzazione, come testimonia tra l'altro la nuova partnership siglata con Bimotor, oltre alla rinnovata sinergia con Boni Motori Marini", aggiunge Paolo Carri, Direttore Power Solutions di Scania Italia.