Middle East Electricity. Questione di Smart City
Mancano meno di due mesi alla quarantunesima edizione del Middle east Electricity 2017, che si terrà dal 14 al 16 febbraio al Dubai World Trade Center, e l'organizzazione ha già i motori caldi, caldissimi: il tema portante sarà 'Smart Cities'. Le previsioni sul Mee annunciano una crescita di espositori e visitatori stimabile nel 15 per […]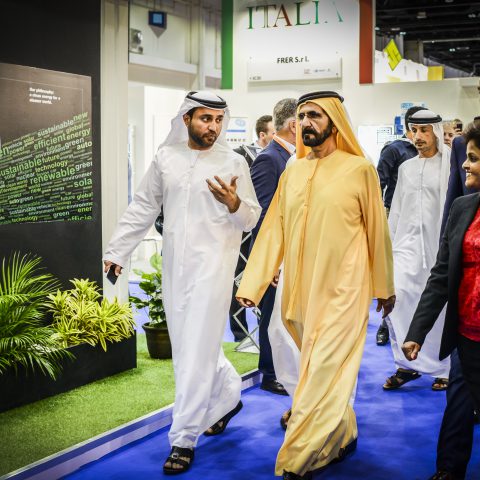 Mancano meno di due mesi alla quarantunesima edizione del Middle east Electricity 2017, che si terrà dal 14 al 16 febbraio al Dubai World Trade Center, e l'organizzazione ha già i motori caldi, caldissimi: il tema portante sarà 'Smart Cities'. Le previsioni sul Mee annunciano una crescita di espositori e visitatori stimabile nel 15 per cento. Diamo un'occhiata al numero più significativo della scorsa edizione del Mee, quello relativo agli espositori, 1.506, distribuiti all'interno dei 62.772 metri quadri dell'esposizione, che legittima Dubai come il palcoscenico più prestigioso della power generation. La quarantunesima edizione ormai alle porte, che si terrà dal 14 al 16 febbraio, e vedrà protagonista anche DIESEL International (in distribuzione in quei giorni tra i padiglioni fieristici di Dubai, oltre che al Samoter-Transpotec, al Sima, all'Omc e al Conexpo), si annuncia dunque come l'ennesimo balzo in avanti.
Ci sarà il gotha della motoristica mondiale, del quale fa parte anche Yanmar, all'esordio sotto il sole degli Emirati Arabi Uniti. Cummins, Deutz, Doosan, Fpt Industrial, John Deere, Lovol, Mahindra Powerol, Mtu, Scania, Volvo Penta, Yuchai, Weichai.
Tanta la carne al fuoco del Middle East Electricity, come gli effetti dello Stage V sul comparto, a partire dal 2019, l'evoluzione del Tier 3, l'attualità delle istanze delle Tlc, che fanno ancora affidamento sull'efficienza dei generatori di piccola e media potenza, le prospettive aperte dalla diffusione dei data center e dalle smart grid. La platea del Mee si affaccia sull'intero scibile della produzione di energia, ma la rappresentanza interessata alla generazione di potenza costituisce il 35 per cento, un terzo dunque dei visitatori, in base ai dati demoscopici raccolti dagli organizzatori.
Quali saranno i motori più fotografati? L'anno scorso sotto i flash è finito il Cursor 16 Taa, evoluzione stazionaria del Diesel of the year 2014, fedele all'inprinting progettuale che esalta la densità di potenza, capace in questo allestimento di 600 kVA. Nell'ultimo biennio tra le altre si sono distinte per vitalità Caterpillar, con la serie Compact International, Cummins, con il Qsk95 e gli alternatori, Deuytz con il Td 2011 L4 Telco, John Deere, che nel 2015 era al suo esordio, con la full line di Gspu, Peterborough con gli ultimi innesti della serie 4000, leggasi 4008-30Tag Electropak, e il 404A-22Sg1 a gpl, Scania con l'8 a V da 16 litri, Weichai con la sinergia con Baudouin.
Va da sé, timbreranno il cartellino del Mee anche i costruttori di gruppi come Kps, Sdmo, Generac e gli italiani, come Bruno e Visa.
A proposito di aziende italiane, a Dubai esporrà in grande stile Isotta Fraschini. Per saperne di più non perdetevi le prossime newsletter.