Scania Next Generation DC13 e Bruno Generators
Il Diesel of the Year fa irruzione nella generazione di potenza, a firma di Bruno Generators. Il sodalizio tra il gruppo capitanato da Renato Bruno e il fornitore svedese di soluzioni propulsive prosegue dal 2019, sotto le insegne dello Stage V. Il motore siglato 505A equipaggia un gruppo Fusteq, avvistato al Bauma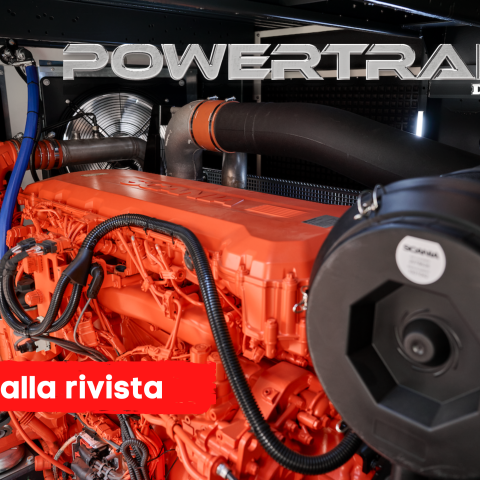 Correva l'anno 2019, Bruno Generators proietta l'ologramma del grifone sul grande schermo dello Stage V. Nel 2023, Scania si aggiudica il Diesel of the Year con il Next Generation DC13. Qual è il trait d'union? Semplice, la generazione di potenza, che Bruno ha declinato anche nelle forme del 13 litri svedese. Al Bauma di Monaco di Baviera del 2019 trovammo un gruppo elettrogeno equipaggiato con lo Scania DC13, da 450 kVA. Bruno Generators celebrava così l'epifania di Scania nell'ecosistema Stage V, applicato ai gruppi elettrogeni. All'epoca, Domenico De Gianni, Direttore Export di Bruno, dichiarò: «La nostra consolidata esperienza nel settore del noleggio e l'elevato livello di competenza e specializzazione, ci permettono di affrontare le sfide del passaggio dalle norme europee sulle emissioni Stage III A a Stage V. Per rispondere con successo a questa sfida, Bruno confida nel supporto tecnico e nell'avanzata esperienza professionale del partner Scania».
Scania per la serie Fusteq
La serie Fusteq includeva gruppi elettrogeni che spaziano dagli 8 agli 800 kVA, con cofanature altamente insonorizzate e dagli 800 ai 2.500 kVA in container HC da 20' e 40'. Oltre agli elevati livelli di insonorizzazione, i gruppi elettrogeni Fusteq si distinguono per l'innovativo sistema di raffreddamento VSi che regola il regime di rotazione delle elettroventole in base al carico del gruppo elettrogeno e alla temperatura esterna, eliminando la ventola meccanica del motore e riducendone così i consumi di carburante.
Tornando ai giorni nostri, sono proprio quelli di Scania che ci confermano: «Il pedigree di questo gruppo elettrogeno vanta non solo il primo motore Scania Stage V single-speed, ma anche la partecipazione al Bauma nel 2019 e la messa in servizio nello stesso anno presso gli stabilimenti produttivi di Tecnogen. Attività quest'ultima che è proseguita fino ad oggi ed ha permesso di raggiungere la soglia delle 20mila ore di funzionamento. Le fatiche di questo progetto ci hanno permesso di sviluppare e perfezionare sul campo il nostro motore Stage V, offrendo a Bruno Generators una gamma Stage V adatta alle richieste più stringenti del mercato del noleggio. Memori di questa esperienza positiva, abbiamo chiesto a Bruno la sua disponibilità per una nuova collaborazione che ricalcasse il sentiero tracciato in precedenza, ma con l'ambizione di spingerci un po' oltre. Il progetto – unico in tutta Europa – ha permesso la presentazione al mercato della nuova piattaforma motore da 13 litri; si tratta del primo motore di nuova generazione messo in funzione al di fuori degli stabilimenti di Södertälje. Squadra che vince non si cambia: il (Next Generation, ndr) DC13 505A Stage V è stato installato sempre all'interno di un gruppo Fusteq ed esposto al Bauma 2022. Al termine della fiera, la macchina è stata spostata presso Tecnogen per sostituire il fratello maggiore e iniziare il lavoro sul campo. Queste unitamente ad altre iniziative di co-marketing come il progetto "Radio Norba Cornetto Battiti live", hanno permesso di rafforzare la collaborazione commerciale tra Bruno e Scania. Ad oggi Bruno realizza gruppi elettrogeni per mercato stand-by e noleggio con tutta la nostra gamma di motori».
La versione da gruppo porta in dote il set tecnologico del 12,7 per utilizzi off-highway. Si tratta di un motore a controllo elettronico, gestito dalla centralina Ems (Engine management system), con il common rail Xpi, concepito a quattro mani con Cummins per le più raffinate ed esigenti applicazioni stradali e travasato nell'industriale, doppio albero a camme in testa. Sia a 1.500 che a 1.800 giri, il 6 cilindri in linea (AxC 130×160 millimetri) si segmenta in un generoso ventaglio da 240 a 528 chilowatt elettrici.
PER LEGGERE L'ARTICOLO COMPLETO SCARICA IL PDF