DIESEL e il Machine of the year 2017 al Sima di Parigi
Al Sima di Parigi è andato in scena il Machine of the year 2017, a vent'anni esatti dalla sua creazione, e dietro le quinte c'era anche la redazione di DIESEL. Unica rivista motoristica della giuria, abbiamo fornito il nostro contributo focalizzando la lente d'ingrandimento sulla parte propulsiva e allargando poi l'attenzione dal cofano alle applicazioni […]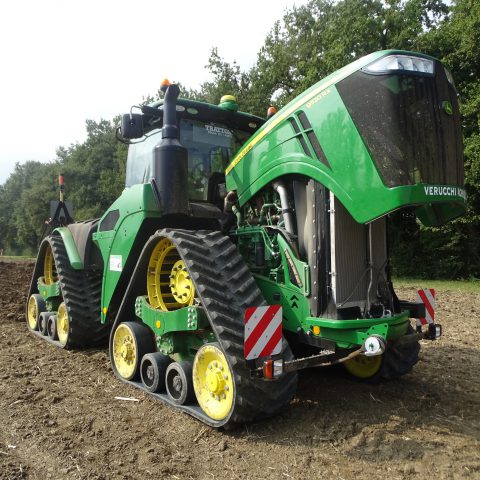 Al Sima di Parigi è andato in scena il Machine of the year 2017, a vent'anni esatti dalla sua creazione, e dietro le quinte c'era anche la redazione di DIESEL. Unica rivista motoristica della giuria, abbiamo fornito il nostro contributo focalizzando la lente d'ingrandimento sulla parte propulsiva e allargando poi l'attenzione dal cofano alle applicazioni agricole nella loro interezza. Il premio più ambito, taglia XXL, oltre i 400 cavalli (294 chilowatt) è stato appannaggio di John Deere, con il 9RX, motorizzato da Cummins, con il QSX 15, e dalla stessa John Deere Power Systems, con il Pss da 13,5 litri.
Categoria XL, da 280 a 400 cavalli (206 – 294 kW), a un quasi inedito nel panorama agricolo, il Fastrac 8000 di JCB, un marchio che con la velocità ha confidenza.
Machine of the year: il top a John Deere, Massey Ferguson e Valtra
Ancora John Deere nella categoria L del Machine of the year, da 180 a 280 cavalli (132 – 206 kW) con il 6250R. Qui c'è ancora la formula Pss nella cubatura, però, da 6,8 litri, naturalmente di produzione domestica. Un passo indietro, in termini di cavalleria, si trova la categoria M, da 120 a 180 cavalli (88-132 kW), dove è il gruppo Agco con Massey Ferguson a ritirare il premio insieme, almeno virtualmente, al 4,9 litri (fu) Sisu, sotto il cofano del 6700 S. Argo non scende dal podio e si aggiudica la categoria S, sotto i 150 cavalli (110 kW), cambiando però marchio. È il turno di Valtra con l'A4, presentato proprio al Sima, equipaggiato con i quadricilindrici finlandesi con canna da 1,1 litri.
DIESEL e i Farmotion dei Same Frutteto Active Drive
Goloso come non mai il Same Frutteto Active Drive, che dopo essersi aggiudicato il Best of Specialized 2016 fa suo anche il riconoscimento agli specializzati del Machine of the year. Protagonisti nel 'sottopancia' non sono solamente i Farmotion, concepiti a Treviglio e fabbricati in India, sia il 3 cilindri da 2.887 cc che il 4 cilindri da 3.849 cc. A promuovere il Same ha contribuito in maniera determinante l'Active Drive, la sospensione anteriore indipendente, come sui grandi trattori da campo aperto.
New Holland Everest e Jcb Agripro Dualtech Vt
Chiudono la parata di macchine iridate una mietitrebbia di New Holland, la Everest, e il telescopico di Jcb. New Holland ha battezzato Everest un sistema che compensa pendenze trasversali fino al 20 per cento e longitudinali fino all'8 per cento in salita e al 10 per cento in discesa. Eroga la potenza e la coppia necessarie per le operazioni di mietitura e di trazione il Cursor 9 made in Sfh.
Del sistema Dualtech abbiamo scritto tanto. Del sollevatore telescopico britannico, l'Agripro Dualtech Vt di Jcb, va detto che si articola in tre modelli da 7 metri, con capacità di sollevamento  di 3,1, 3,6 e 4,1 tonnellate, e che in cabina di regia anche qui c'è un 'captive', l'Ecomax da 4,8, Diesel of the year 2011, 108 kW e 560 Nm.
In chiusura, i vincitori delle altre categorie. Vicon Extra 736T tra le falciatrici; Krone Big Pack Vari Cut tra le presse; Lemken Karat 12 tra le attrezzature; Amazone Kataya alla voce  seminatrici; Joskin per il trasporto. Due i premi speciali della giuria, destinati a Claas per la tecnologia Shreladge e Kuhn per il carro miscelatore semovente Spv Power.
Premio del pubblico al coltivatore Performer 3000 di Kuhn.
Prossimo appuntamento a novembre, in quel di Hannover, all'Agritechnica.