Sima di Parigi e i motori
Anche il Sima ha emesso le sue sentenze motoristiche, che hanno riguardato la triade presente al Parc des Expositions di Parigi. La prima riguarda Fpt Industrial, che si è presentata in duplice, anzi triplice veste.  Allo stand Bimotor c'era ovviamente tanto di Fpt, a cominciare dal logo e dal rinnovato layout fieristico. Due purosangue torinesi , […]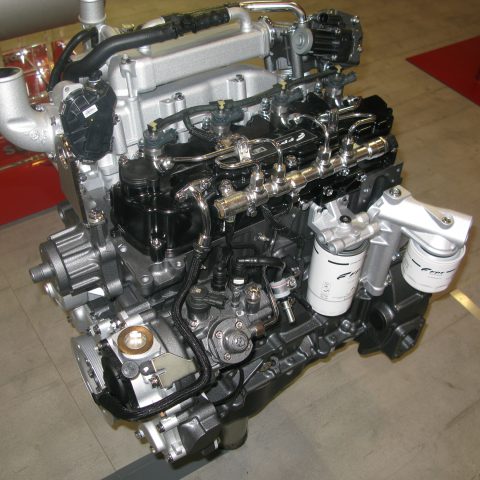 Anche il Sima ha emesso le sue sentenze motoristiche, che hanno riguardato la triade presente al Parc des Expositions di Parigi. La prima riguarda Fpt Industrial, che si è presentata in duplice, anzi triplice veste.  Allo stand Bimotor c'era ovviamente tanto di Fpt, a cominciare dal logo e dal rinnovato layout fieristico. Due purosangue torinesi , come l'F34 omologato Stage V e l'N67 omologato al presente, quindi in Tier 4 Final. Griffato Bimotor c'era il 4,5 litri della famiglia Nef in formato powerpack, diventato uno dei cavalli di battaglia di Ciriè.
Al Sima New Holland e Fpt Industrial a braccetto
La triplice veste deriva dalla presenza sui 'trespoli' del vasto parterre di New Holland dell'F34 e dell'N6 a gas naturale. Due spunti di riflessione balzano agli occhi: riesumato all'Eima, il 3,4 litri ha addirittura concesso il bis. Rianimato dal lancio del Syncro di Perkins, che ha separato le strade di Torino e Peterborough in prospettiva Stage V, il compatto di Fpt esce dalla dimensione carsica della gestione a quattro mani Fpt – Perkins e si lancia in orbita 2019, affiancato allo stand Bimotor dal modulo di post-trattamento espressamente cucito su misura di quello che nell'attuale nomenclatura Perkins è identificato come 854. Altra curiosità deriva dall'N67 a gas. Dopo l'Eima, il Sima, a testimonianza del ruolo che il gas naturale e il biogas giocheranno nel prossimo decennio nella scuderia Cnh Industrial. Cnh peraltro attiva su più fronti al Parc des Expositions.
John Deere e Volvo Penta
Conferme anche da John Deere, che replica il modello Agritechnica e si ripropone a rimorchio della casa madre nel maestoso stand del cervo. Un binomio che nell'agricolo funziona ed é identificato come uno dei brand per antonomasia. In esposizione il 4,5 litri, il modulo Iecs, che mette il sigillo sulla recente svolta in Stage V, e il 6,8 litri.
Della partita, come annunciato su DIESEL, anche Volvo Penta, che sfodera dal museo di Götebörg un trattore d'antan, a voler ribadire  le robuste radici svedesi nel terreno della meccanizzazione agricola. Si tratta del Volvo BM, motorizzato dal Bmt 24, 4 cilindri a benzina, capace di 27,5 cavalli.
Anche a queste latitudini il blocco con catalizzatore e serbatoio col tappo blu la fa da padrone, accompagnato  dal 6 cilindri Tad 870 e dal top di gamma, il 16 litri, Tad1670.
L'imponente sagoma del Case a guida autonoma prende vita grazie al Cursor 9. Sono stati loro due, giovani virgulti del gruppo CNH Industrial, ad avere ammaliato i contadini presenti, francesi e non solo. Sotto i cofani degli OEM meno noti in Italia, si sono visti alcuni Perkins per Armatrac, i turchi in sinergia con Perkins dall'alba dei tempi e con Deutz sul IIIB. I coreani di Tym si sono focalizzati sul 2,9 e sul 3,6 di Deutz, sui Tnv di Yanmar e sui Dl03 di Doosan Infracore per la fascia alta, 63, 71 e 78 chilowatt. Come anticipato a più rirepse, ha brillato la stella della trasmissione Dual Tech di Jcb, che si è aggiudicata l'Innovation awards e ha condotto il telescopico Agri Pro di Jcb al titolo di Machine of the world nel suo segmento.