Sostenibilità e non solo al Mets 2019
Qualche numero, anzitutto, per inquadrare il Mets 2019, a cui anche quest'anno non abbiamo saputo rinunciare. L'appuntamento internazionale dedicato alla componentistica e agli accessori per la nautica da diporto ha ospitato, dal 19 al 21 novembre, poco meno di 18.000 visitatori da 115 paesi e 1.670 espositori da 53 paesi, con 271 aziende che hanno […]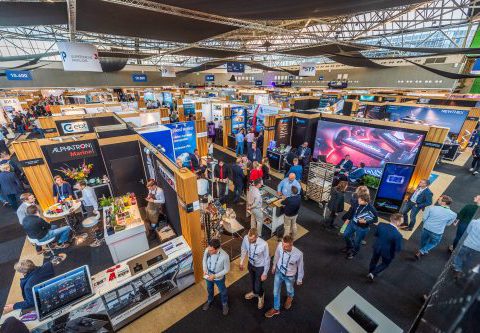 Qualche numero, anzitutto, per inquadrare il Mets 2019, a cui anche quest'anno non abbiamo saputo rinunciare. L'appuntamento internazionale dedicato alla componentistica e agli accessori per la nautica da diporto ha ospitato, dal 19 al 21 novembre, poco meno di 18.000 visitatori da 115 paesi e 1.670 espositori da 53 paesi, con 271 aziende che hanno esposto per la prima volta.
E l'Italia? Sempre molto presente, anche a giudicare dall'incidenza della lingua italiana nelle conversazioni che hanno animato i corridoi e gli stand del Rai di Amsterdam, sede dell'evento. Ben 288 aziende del Belpaese hanno esposto i loro prodotti: quasi il 20 percento del totale.
COSA VI AVEVEMO RACCONTATO NEL 2017…
I nuovi motori Fpt presentati al Mets 2019
Senza tralasciare il filo conduttore della sostenibilità che ha animato l'intera rassegna nonché i dibattiti e i convegni ospitati nel corso delle tre giornate olandesi, ci siamo naturalmente concentrati sull'offerta motoristica e sulle soluzioni di trasmissione.
In tema di motori, Fpt Industrial ha scelto una fiera solitamente avara di vere e proprie presentazioni per lanciare due nuovi propulsori per applicazioni commerciali. Il modello C16 600, da 16 litri e 600 cavalli (442 chilowatt) con coppia di 2.680 Nm, pensato per applicazioni commerciali pesanti, riprende il C16 (Diesel of the Year 2014) lanciato lo scorso anno a Cannes. Il modello N67 450 N, evoluzione della famiglia Nef per applicazioni diportistiche e commerciali leggerecon potenza massima di 450 cavalli (330 chilowatt) e coppia di 1.350 Nm. Obiettivo: massimizzare il Tco. Ne parleremo diffusamente…
Restando in Italia, AS Labruna, concessionario Fpt, ha esposto il Pod oleodinamico in lega di alluminio Hydropod, in grado di trasferire all'elica 367 chilowatt di potenza e 2.500 Nm di coppia ma anche, strizzando l'occhio al concetto di sostenibilità, il Blue Hybrid di Cmd già ammirato a Genova.
Gli altri costruttori e i marinizzatori
E gli altri? Volvo Penta era presente con la gamma D4 e D6 e con una serie di concept che guardano all'elettrificazione. John Deere ha messo in mostra soluzioni da 4,5 e 6,8 litri certificati Stage V rispettivamente da 61 e 117 chilowatt, in produzione dall'inizio del prossimo anno. Anche di questo avremo modo di riparlare.
Lo stand Yanmar si è fregiato sì dei motori marini della serie 4LV, recentemente lanciati, anche se il focus dell'azienda era sui nuovi pannelli di controllo per le imbarcazioni. Mentre Kohler e Cummins hanno diviso lo spazio a disposizione tra propulsori e soluzioni per gruppi elettrogeni, Hyundai Seasall ha puntato sul fuoribordo diesel S30-OB per il diporto.
Infine, il marinizzatore britannico Marine Mermaid ha portato alcuni esempi di motori della conterranea Jcb con potenza da 55 a 120 chilowatt.