F28 Ibrido. Diversamente uguale…
Il papà è Fpt Industrial, la mamma è la tendenza alla decarbonizzazione. Il figlio è lui, l'F28 Ibrido, parente strettissimo del monoblocco diesel che si è aggiudicato il Diesel of the year 2020, e dello stesso 2,8 litri a gas di cui abbiamo parlato di recente. Questa volta ci accompagna Luca Giovenzana, Innovation Hybrid Chief Engineer, […]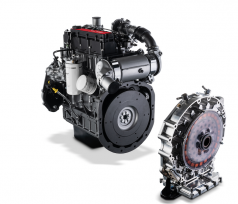 Il papà è Fpt Industrial, la mamma è la tendenza alla decarbonizzazione. Il figlio è lui, l'F28 Ibrido, parente strettissimo del monoblocco diesel che si è aggiudicato il Diesel of the year 2020, e dello stesso 2,8 litri a gas di cui abbiamo parlato di recente. Questa volta ci accompagna Luca Giovenzana, Innovation Hybrid Chief Engineer, relatore per Fpt Industrial al 'Digitalk Navigare a Emissioni zero'.

Cosa ci racconta dell'approccio ingegneristico agli ingombri dell'F28 Ibrido?
La gestione degli ingombri è uno degli aspetti principali e sfidanti per la riuscita del progetto. L'F28 è stato concepito per applicazioni agricole e movimento terra di taglia medio-piccola. L'ibridizzazione permette l'engine downsizing mantenendo le performance oggi garantite dal motore F34 per questa tipologia di macchine. Consideri infatti che la compattezza del motore F28 favorisce l'integrazione di macchina elettrica ed inverter, con l'obiettivo di mantenere gli ingombri della attuale powerunit.
Quale approccio nella fase progettuale e di test a banco?
Le applicazioni veicolari sono molteplici, caratterizzate da diversi layout installativi. La progettazione del sistema ibrido deve essere concepita come modulare e compatta al fine di minimizzare le modifiche necessarie per l'integrazione nel vano motore. Lo stesso approccio di modularità è anche garantito da una strategia di controllo comune sviluppata per ottimizzare i benefici della combinazione diesel ed elettrica. L'architettura ibrida di riferimento è Low Voltage (48V) e scalabile in High Voltage. La potenza massima per un sistema Low Voltage è tra i 20 kW e 30 kW.. I sistemi 48V consentono una maggiore semplificazione a livello di sicurezza e manutenzione rispetto agli omologhi High Voltage che restano adottati per gli impieghi più gravosi. Una scelta da fare con il cliente a seconda della applicazione.
Dettagli di motore elettrico e pacco batterie?
Nell'off-road l'ibridizzazione permette di utilizzare la macchina elettrica per migliorare la produttività ed efficienza del motore termico, soprattutto nei transitori di carico, grazie all'effetto dell'electric torque assist. Le batterie sono la riserva di energia del sistema. Nella fase di progettazione, analizziamo le missioni tipiche dell'applicazione veicolare che guidano il dimensionare il sistema ed in particolare la capacità della batteria. Nella selezione si cerca un'ottimizzazione tra performance richieste ed ingombri e rispettare. Adottiamo batterie agli ioni di litio con tecnologie allo stato dell'arte.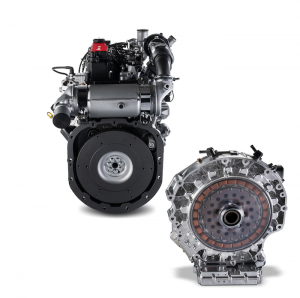 Cosa accade durante la fase propedeutica?
Nella fase progettuale è fondamentale l'analisi della missione di riferimento. Al banco prova dinamico si replicano le missioni e si procede alla calibrazione di dettaglio dei parametri rilevanti, ad esempio le specifiche del sistema di raffreddamento. Sempre in funzione dell'approccio modulare viene sviluppata una strategia di controllo integrata con software proprietario, che ottimizzerà la ripartizione o della coppia tra motore termico ed elettrico per raggiungere la massima efficienza e le performance di targa.
Quali sono i benefici di un veicolo ibrido rispetto alle versioni convenzionali diesel e gas?
Il motore elettrico permette l'introduzione di nuovi modi operativi. Grazie all'electric torque assist è possibile aumentare la produttività e migliorare le operazioni dinamiche, che si traducono in aumento di produttività. È possibile elettrificare gli accessori azionati tradizionalmente in modo meccanico-idraulico, con il vantaggio di un minor assorbimento di potenza. In questo modo il motore termico lavora in un'area di funzionamento più efficiente, associata ad un minore consumo di carburante.
FPT INDUSTRIAL F28: DIESEL OF THE YEAR 2020