Scania Next Generation DC13: il Diesel of the Year in cava con Perlini
Lo Scania Next Generation DC13 ha le carte in regola per rispondere alle esigenze delle applicazioni muscolari di quell'ecosistema. Come spiega Dario Poltronieri, project manager di Perlini, sono due le necessità principali: "aumentare le potenze e ridurre i consumi". Leggi l'articolo completo su Powertrain di luglio-agosto.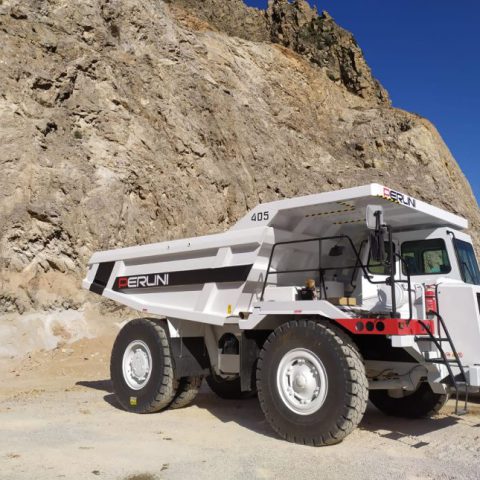 Fatta l'Italia, bisogna fare gli Italiani». Parafrasando Massimo d'Azeglio, si potrebbe dire che "fatto il Diesel of the Year 2023, bisogna trovargli casa". Non sarà un grosso problema, ne siamo convinti. Lo Scania DC13 ha finora esercitato le sue doti di seduzione su alcuni costruttori del movimento terra che non necessitano di presentazioni. In prima battuta Doosan, passata sotto le insegne Hyundai, col marchio Develon, per esempio con l'escavatore gommato DX530LC-7 e con i dumper a telaio rigido da 40 tonnellate, i DA40. A proposito di dumper c'è un altro nome, Perlini, da qualche anno riapparso sul palcoscenico delle cave, che ha abbracciato la causa Scania, 12,7 litri incluso.
Perlini, prima e dopo
Nel 2020, in piena pandemia, intervistammo Dario Poltronieri, project manager di Perlini. Tra le altre cose, ci disse: «Il supporto di Scania è stato ottimale, così come l'integrazione del motore. Ci siamo resi conto sin da subito che c'era l'humus giusto per fare un ottimo lavoro, e la risposta dei motori ai primi test, con i dumper al lavoro in condizioni particolarmente sfidanti, in cantieri con pendenze fino al 18 per cento, hanno dato risultati persino superiori alle aspettative». Abbiamo pensato di sottoporre il Grifone alla cartina al tornasole del riesame. Tre anni dopo, abbiamo quindi ricontattato Poltronieri, che ha esordito così: «Per noi ha rappresentato e rappresenta un motivo di vanto il fatto di avere incassato la patente di credibilità da un gruppo così prestigioso. Ogni volta che abbiamo avuto un qualsiasi tipo di necessità, abbiamo ricevuto una risposta adeguata».
Ritorniamo alle origini di questo rapporto. Ci riassume le tappe del vostro percorso?
«La collaborazione con Scania è iniziata nel 2018 e ci ha permesso di sviluppare i nostri nuovi veicoli, perché le normative vigenti ci hanno costretto a utilizzare motori omologati Stage V. Per la macchina da 40 tonn, la DP405, abbiamo utilizzato il DC13 Stage V, per la 70 tonn, la DP705, ci siamo invece orientati al DC16. Successivamente l'azienda è cresciuta e quell'utopia sposata da Scania è diventata realtà. Abbiamo ricevuto i primi ordini da mercati extra-europei. Ci siamo quindi affidati a Scania anche per le applicazioni Stage II. L'ultima flotta non emissionata è di 8 macchine da 70 tonn, spedite a Cuba lo scorso maggio. Circa un anno e mezzo fa Perlini ha deciso di costruire una macchina più piccola, da 26,5 tonn, la DP265, che monta il DC9 di Scania. L'abbiamo presentata prima al Bauma Monaco, poi al Samoter, con una differenza. I mesi intercorsi tra i due eventi sono stati impiegati per svolgere un test all'interno di un cantiere Fassa Bortolo, alla cava di Gavardo, in provincia di Brescia. È una macchina totalmente digitalizzata, da remoto agiamo su tutti i parametri, compreso quanto richiesto dalla 4.0». Poltronieri aggiunge un paio di note didascaliche, su motore e ibridizzazione. «Il DC9 è un motore molto performante e ci ha regalato risultati strabilianti, sia in termini di potenza che di ridotti consumi. Scania ha partorito delle applicazioni ibride, di cui attendiamo gli sviluppi, per applicarli sul prototipo che abbiamo concepito in appena 8 mesi. Non abbiamo fretta. I mercati di riferimento non sono pronti a ricevere quel tipo di macchina. Noi, al momento, non siamo interessati a soluzioni diverse dal diesel, perché il mercato non ce le richiede».
E se potesse fare nomi e cognomi di chi ha contribuito al successo di questa partnership?
«Li farei, eccome. Tutto questo è stato infatti possibile per i supporti tecnologici forniti da Dario Pitassi e quelli commerciali di Riccardo Moraglia. Aziende piccole come la nostra sono dinamiche e richiedono altrettanta flessibilità. Se penso a quanti sabati passati con Pitassi… Per ottenere il benestare, bisogna fare le cose per bene sulla linea di aspirazione e di scarico».
Considerando questi presupposti, ci potrebbe essere spazio per lo Scania Next Generation DC13?
«Partendo dall'ovvia considerazione che dovremo prima vederlo sul campo, la risposta è "in teoria, sì". Seguiamo due direzioni: aumentare le potenze e ridurre i consumi (e il DotY 2023 risponde a entrambi i requisiti, ndr). Dobbiamo far in modo che il mezzo esprima a pieno la potenza nominale. Al motorista spetta il compito di fornire un'unità performante, a noi quello di usare componentistica che valorizzi il motore. Le faccio un esempio: nel 2019 ci contattò un ex cliente Perlini, che aveva noleggiato una macchina della concorrenza. Mesi dopo si lamentò che i consumi non corrispondevano a quanto dichiarato. Io, allora, gli feci presente che i consumi sono a banco, e devono essere contestualizzati. Se hai una salita del 5% con 4 dossi per lo scolo delle acque, le sospensioni Perlini ti vengono in soccorso perché resistono senza sobbalzi. La loro meccanica consente di mantenere un'alta velocità anche con il manto stradale disconnesso. Un'altra macchina potrebbe indurre l'autista a fermarsi prima del dosso, per evitare botte ai reni, e quando si riparte a pieno carico i consumi si impennano».
Poltronieri conclude con una riflessione sul mercato. «Il movimento terra è scettico sulle applicazioni più spinte, per timore che possano insorgere problematiche strada facendo».
PUOI SCARICARE QUI L'ARTICOLO COMPLETO